CHECK OUT LIVE GALAPAGOS CRUISE AVAILABILITIES
Galapagos Yachts & Cruise Ships
The best way to discover the true diversity of the Galapagos islands is on a live-aboard Galapagos yacht!
Explore the Galapagos cruising in style, with comprehensive itinerary & experienced naturalist guide.Step aboard for all of the best wildlife & breathtaking scenery at Galapagos!
Use the filters below to search for Galapagos yachts matching your search criteria.
CLASS FILTER
YACHT TYPE FILTER
YACHT CAPACITY FILTER
PRICE FILTER PER DAY
WHAT ARE THE DIFFERENT TYPES OF GALAPAGOS SHIP?
The Galapagos islands is rather different than regular cruise destinations. Visitors will find no large 1000+ passenger ships here. Instead small, more personal cruising is the norm.
When searching for a Galapagos cruise, consider the following options:
Motor Yacht – small vessels with typical capacity from 16 to 30 passengers.
Catamaran – popular for their stability, most catamarans (and trimarans) accommodate 16 passengers.
Motor Sailor – these attractive yachts are also for small, more intimate tours.
Cruise Ship – although large vessels by Galapagos standards, passengers capacity usually ranges from 50 to 120.
So, as you can see, small yacht cruising is the way to go at Galapagos. This is positive for the protection of the fragile and pristine Galapagos ecosystem, and also offers a more personalised tour experience.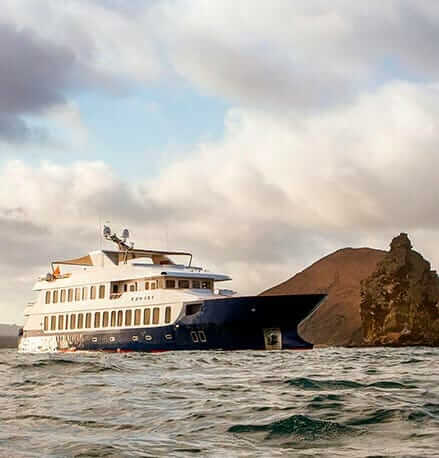 WHAT TO CONSIDER IN YOUR CHOICE OF GALAPAGOS YACHT?
The choice between different Galapagos cruises can be daunting, with so many options to choose between. Luckily, our expert Happy Gringo team are here to help!
Some of the things to consider before you book include:
Cruise type (small motor yacht, catamaran, large cruise ship).
Yacht availability for your travel dates.
Galapagos cruise itinerary – not all are created equal.
Yacht facilities & comfort level.
Trip Budget.
Don't let the choices overwhelm you. It doesn't have to be a stressful process. We are here to hold your hand, and guide you to the perfect Galapagos cruise!