Galapagos Islands Trips & Travel
The Galapagos Islands are a huge tick for any travel bucket-list. For many visitors, a Galapagos vacation is like stepping into your own Discovery Channel documentary.
Yet, Galapagos trip planning can be a confusing experience. With so many different Galapagos travel options to choose between, it's easy to feel stressed. Let's fix that! With almost 20 years of experience, and over 10k happy clients, it's fair to say Happy Gringo are THE Galapagos destination experts.
We offer best-in-class Galapagos vacations, from cruises to land tours, & scuba diving. Together let's find the perfect Galapagos trip for your dream vacation!
HOW DO YOU LOVE TO TRAVEL? CHOOSE YOUR GALAPAGOS VACATION TYPE BELOW:
WHY TRAVEL TO GALAPAGOS?
The Galapagos Islands are a truly unique and magical destination. A place that captures the imagination like few others can. A land that time forgot, full of weird and wondrous endemic creatures found only here.
On land, a Galapagos Islands vacation is one of the most up-close and intimate wildlife encounters on the planet! Galapagos birds & animals have little fear of humans and are happy to share their world with visitors.
Galapagos under-water Galapagos life is unbelievable too. Enjoy world-class scuba diving, & snorkeling with sealions, reef sharks, and penguins for company.
There´s also more to a Galapagos trip than just wildlife. There are more than enough amazing landscapes to make Friends jealous on Instagram. Imagine picture-perfect white sand beaches, and mysterious volcanic landscapes straight out of a Jurassic Park movie set.
Truly no other place on planet Earth is quite like Galapagos. Prepare to have your expectations completely blown away!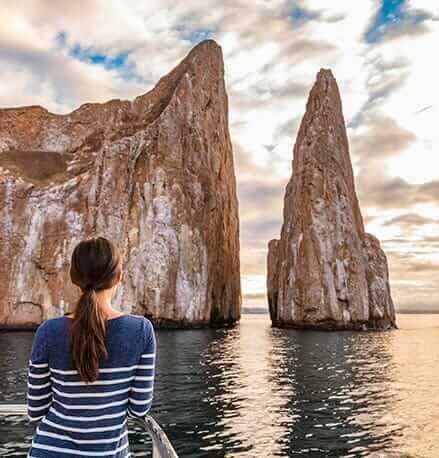 CHARTER A GALAPAGOS CRUISE
Are you traveling with a large family, or in a group of friends? Looking for more privacy, flexibility and personalized attention?
Then chartering your own yacht is the right option for your Galapagos vacation. Happy Gringo is the go-to agency for Galapagos travel in groups.
GALAPAGOS ISLANDS TRAVEL TIPS
COME PREPARED WITH $$$ CASH
The towns in Galapagos are small, with limited access to ATMs, particularly on Isabela Island. Also, some of the smaller local businesses may not accept credit card payments.
So, we recommend to travel to Galapagos with plenty of USD$ cash to cover your daily expenses. Also don't forget that the $100 Galapagos National Park entry fee can only be paid in CASH when you arrive.
GALAPAGOS LUGGAGE ALLOWANCE
Most Galapagos flights to/from mainland Ecuador allow 1-piece of checked luggage up to 20 kg (44lb), plus 1 carry-on up to 7 kg (15lb).
For intra-island Galapagos travel, flights typically allow just 7kg per person.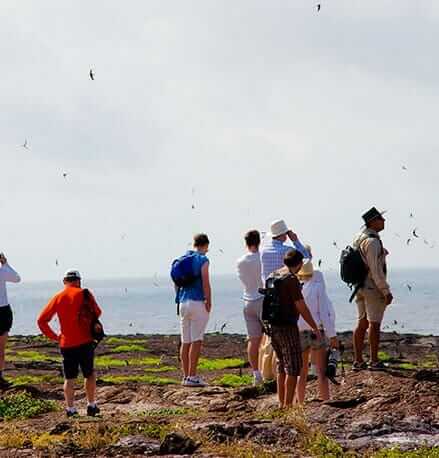 RESPONSIBLE TRAVEL AT THE GALAPAGOS ISLANDS
The Galapagos Islands eco-system is sensitive to the impact of tourism. So, it's important to tread lightly as you go, and always respect nature. Leave the islands in their pristine state, so others can also enjoy Galapagos in the future.
Please follow Galapagos National Park travel guidelines:
Avoid touching or feeding the animals, and do not get too close.
Food is prohibited on all uninhabited islands.
Never remove any plant, animal or natural objects from the islands.
Stay on marked trails, and take care to avoid stepping on nesting sites.
Always stay together with your group & guide.
Leave no litter on the islands, or in the sea.
Resist buying souvenirs made from plant or animal.
For more information, check out our Responsible Galapagos Travel blog post.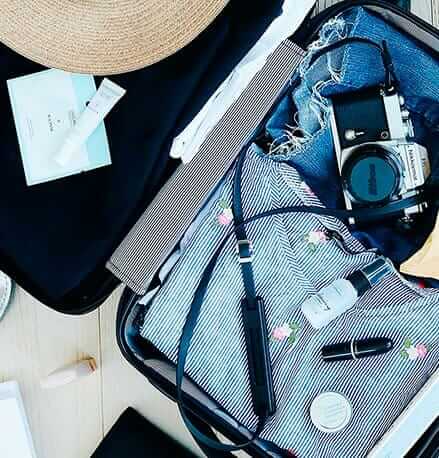 EVERYTHING YOU NEED TO PLAN YOUR GALAPAGOS VACATION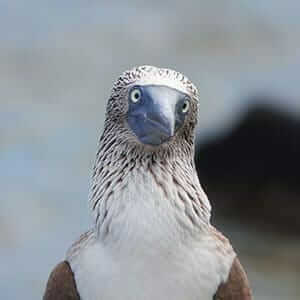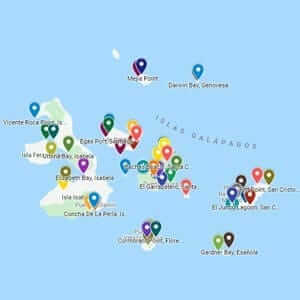 DUMMIES GUIDE TO GALAPAGOS TRIP PLANNING
Confused? Stressed? Don't even know where to start with Galapagos trip planning? Let's get back to the basics, with our simple Galapagos Travel Dummies Guide.
INTERACTIVE GALAPAGOS ISLANDS TRAVEL MAP
Check out our interactive Galapagos map. Click on each island and visitor point for detailed information about activities and wildlife there.