Check out live Aqua Galapagos Cruise availability
Highlights of the Aqua Yacht
Without doubt the Aqua cruise offers the best value Galapagos live-aboard diving experience, and a great itinerary taking you north to Darwin & Wolf islands. The perfect, affordable Galapagos scuba option.
The comfortable Aqua cabins include the flexibility in some cabins to use bunk beds as double or twin (lower double bed, single upper bed), air conditioning, and ocean view windows (main and upper deck only) to enjoy the trip experience.
Aqua yacht social areas include cozy lounge with bar and small library, and a solarium to appreciate the stunning ocean views as you relax.
For divers, the Aqua features 2 tank compressors, enriched air nitrox, scuba tanks with valves, belts, weights and also a rinse table and camera. Dives are done from a dive tender, which allows easy access to the different diving sites.
Aqua Galapagos Cruise
Itineraries and pricing 2023
Browse through the different cruise itineraries below by clicking on each one.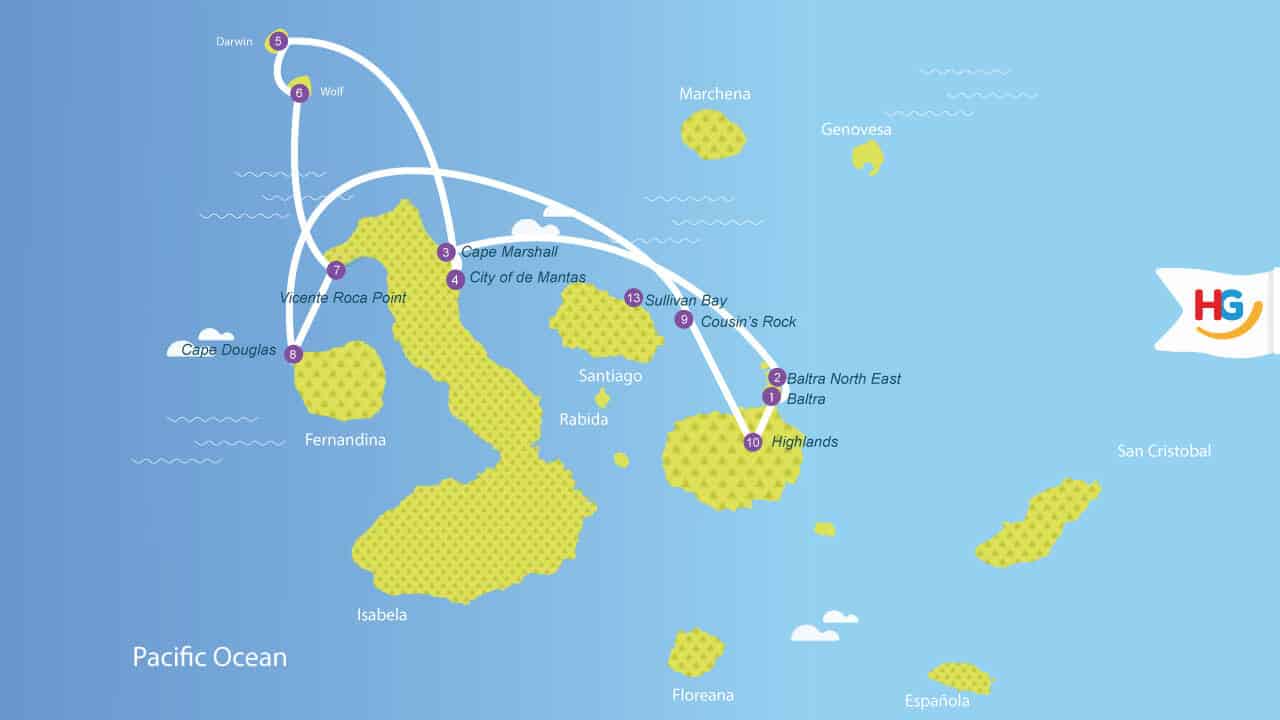 High Season

$4795 Lower Deck

$4995 Main Deck

Per person

Regular Season

$4595 Lower Deck

$4795 Main Deck

Per person
Itinerary 8 days A : SCUBA DIVING ITINERARY
TUE Baltra Airport, Baltra North East
WED Cape Marshall (Isabela) & City of de Mantas (Isabela)
THU Darwin Island
FRI Darwin and Wolf Island
SAT Wolf Island
SUN Vicente Roca Point (Isabela) & Cape Douglas (Fernandina)
MON Cousin's Rock (Santiago) & Highlands (Santa Cruz)
TUE Transfer to Baltra AirportAirport
Full Itinerary
Full Itinerary
Request free quote
Aqua Yacht Specifications
Length: 26 meter / 85 foot
Beam: 5.5 meter / 18 feet
Speed: 9 knots
Crew: 8 members + 1 instructor Guide and 1 Dive Master Guide
Capacity: 16 passengers
Facilities
Private bathroom for each cabin
Air conditioning
Toiletries
Room towels
Beach towels
110v Electricity point in cabin
Safe deposit box
Sundeck
Lounge area
Bar
Small library
TV/DVD - Communal
Emergency Satellite Phone
Kayaks
Wetsuits for hire
Diving - Snorkeling
Snorkeling: included.
Diving possible: Yes, on specialist dive departures.
The Aqua Yacht provides:
12L Tanks for enriched air
weight belts
Weights
Scuba safety equipment (Personal Marine rescue GPS, Storm whistle, Diving beacon, Surface marker tube)
Nitrox is available for an additional fee
We suggest you pack the following:
Mask
Fins
Mask
Snorkel
Regulator with Visible Pressure Gauge
Depth Gauge
Dive Computer
>Buoyancy Compensator
Light for Night Diving
Strongly Recommended:
Spare Mask
Whistle
Dive Alert
Mirror and/or Other Safety Devices.
Extra costs for diving cruise:
Hyperbaric chamber fee (USD 35 pp)
Full dive equipment rental $250pp (BCD, regulator, mask, fins, 7mm wetsuits, hoods, gloves, boots, dive computer, torch)
Nitrox (USD 150 pp)
Travel insurance (Medical coverage, Trip cancellation & Dive Accident insurance)
Advanced open water (or equivalent) certificate, and a minimum of 50 immersions + Diving insurance required to join any diving liveaboard.
Included Services
Meals: From lunch on Day 1, until breakfast on the final day.
Accommodation with private bathroom.
One English speaking certified dive guide per 8 guests.
Snorkel equipment
Unlimited purified water, tea, and coffee.
12L Tanks for air, Weights, Belts, Scuba safety equipment (Personal Marine rescue GPS), Towels
Excluded Services
Entrance fees Galapagos:

Galapagos National Park $100 pp (subject to change).
Galapagos transit control card $20 pp (subject to change).

Flight: International Flights + Quito/Guayaquil - Galapagos - Quito/Guayaquil.
Important Note: The Aqua cruise obligates Happy Gringo to buy Galapagos flight tickets directly through them; failure to do so will unfortunately result in a penalty fee of US$50 per person being charged to you by the yacht operator.¨
Airport transfers in Quito or Guayaquil.
Wetsuits rental ($60 – 8 days / $35 – 5 days / $30 – 4 days)
Child discount: 20% (under 12 yrs old)
Singles supplement: 50%
Alcoholic beverages & colas (there is a bar on board).
Tips for Guides and crew.
Any other personal expenses.
Full dive equipment rental (BCD, regulator, mask, fins, 7mm wetsuits, hoods, gloves, boots, torch - see diving section), Nitrox (USD 150 pp).
Galapagos diving conditions
Water temps in summer average 65o F, 70o F in winter.
The weather at the Galapagos Islands has water temperatures ranging from 65 -70 degrees F from December through May and 60 – 70 F June through November.
Galapagos water temperatures are at the higher end of the scale in both Darwin and Wolf.
Air temperatures range from 75 F or higher in the rainy season (December-May) to the mid 60's F during the dry season (June –November), with nearly constant sea breezes.
Galapagos currents can range 1 to 5 Knots at the sites we visit, and visibility is generally between 30 and 80 feet.
Most divers are comfortable with a 7mm wetsuit June – November with a hooded best and gloves and a minimum 5mm wetsuit December – May.
The primary attraction in Galapagos is the large pelagic such as schooling Hammerhead sharks, Galapagos sharks, Silky Sharks, Bullhead Sharks, Reef Sharks Mola-Molas and Whale sharks.
Gloves and hood are strongly recommended.
Occasionally, there is sighting of Whales, Marlin, Dolphin and Orcas. You will see a rare combination of warm and Coldwater creatures including Sea Lions, Mantas, Penguins, Flightless Cormorants, Sting Rays, Eagle Rays, Turtles, Moray Eels, Sea Horses, Marine iguanas and enormous schools of unusual fish. Many of the marine creatures are found nowhere else on earth!
The best diving around the Galapagos Islands is made possible through the use of dinghies (or inflatable's) manned by our crewmembers. Few dives are directly from the main vessel itself. Dinghy diving is made easy for you! Once your dive is completed, you hand your weight belt to the dinghy driver, take off your BCD and climb in.
IMPORTANT NOTE: please check dive equipment inclusions and exclusions carefully with your sales person before booking.
Dive insurance
Due to the nature of this cruise and the very remote nature of the destination, all dives are required to have dive accident insurance when diving from the Aqua Yacht
Divers Safety
To ensure you safety, we require the followings of all divers:
All divers must be certified as open water scuba divers by an internationally recognized certification organization.
All divers must be experienced divers (we recommend) that you have more than 100 logged dives) and have logged at least one dive within the 6 months prior to boarding the vessel.
Dives are very strong and often at and advanced level. Currents can very strong and often dives are required to swim against them.
All dives are guided by an instructor/naturalist guide and due to Galapagos National Park regulations all divers must dive with the guide at all times.
All divers must log in and out of the water with a member of the diving staff.
All divers must have a submersible console including SPG & depth gauge, time piece or dive computer with these functions.
Diving activities must cease when the consumption of alcohol begins.
All divers must present proof of dive insurance per Galapagos National Park regulations.
About Cabins
 Cabin Distribution:
4 Upper Deck Cabins (5,6,7 & 8) – bunk beds, with windows.
1 Upper Deck Cabins (9) – double matrimonial bed, with windows
1 Main Deck Cabin (4) – double matrimonial bed, with windows.
3 Lower Deck Cabins (1, 2, 3) – double matrimonial bed + upper single bed, with port holes.
Triple Cabin: Lower Deck Cabins can be used as triple cabins.
HAPPY GRINGO YACHT RANKING
Outdoor Space
Social areas, sundeck, restaurant & bar area and boat design.
Cabin Space
Type and size of cabin, type of beds, windows and access to the cabins.
Comfort and Amenities
Special features, beach towels, air conditioning, jacuzzi, TV, toiletries.