Check out live Alya Galapagos Cruise availability
Highlights of the Alya Galapagos Catamaran
 The Alya Galapagos cruise yacht is a modern & stable catamaran. She began Galapagos cruising in 2017.
The Alya Catamaran offers 9 very comfortable cabins, most of which have private balcony for fabulous sea views.
All Alya yacht cabins are designed for double or twin usage, and equipped with private bathroom, cold/hot water, air conditioning, safe deposit box, hair dryer, and other amenities.
Alya Galapagos social areas are elegantly and tastefully decorated, including a huge sun deck with jacuzzi & bar, and a library with DVD movie collection.
 The Alya catamaran carries kayaks on board for guest use - be sure to reserve in advance if interested.
Alya Galapagos Cruise Prices
Itineraries and pricing 2023
Browse through the different cruise itineraries below by clicking on each one.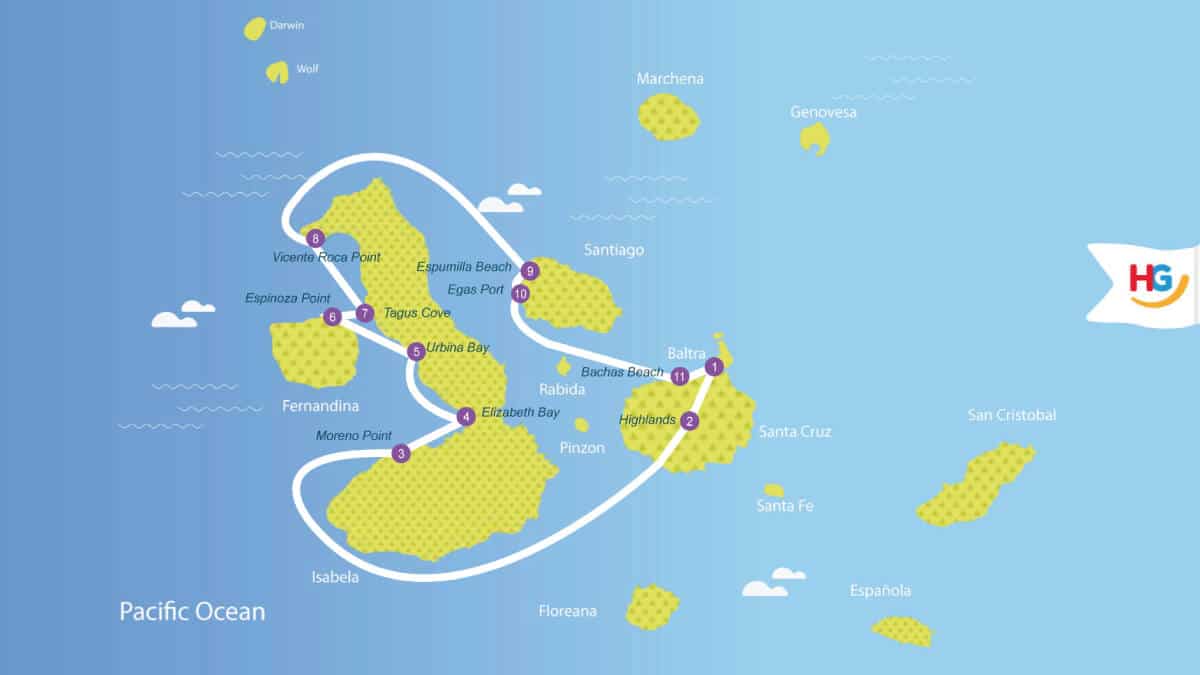 Alya Galapagos Cruise 6 days B
MON Highlands
TUE Moreno Point & Elizabeth Bay
WED Urbina Bay & Fernandina: Espinoza Point
THU Tagus Cove & Vicente Roca Point
FRI Espumilla Beach & Egas Port
SAT Bachas Beach
Full Itinerary
Full Itinerary
Request free quote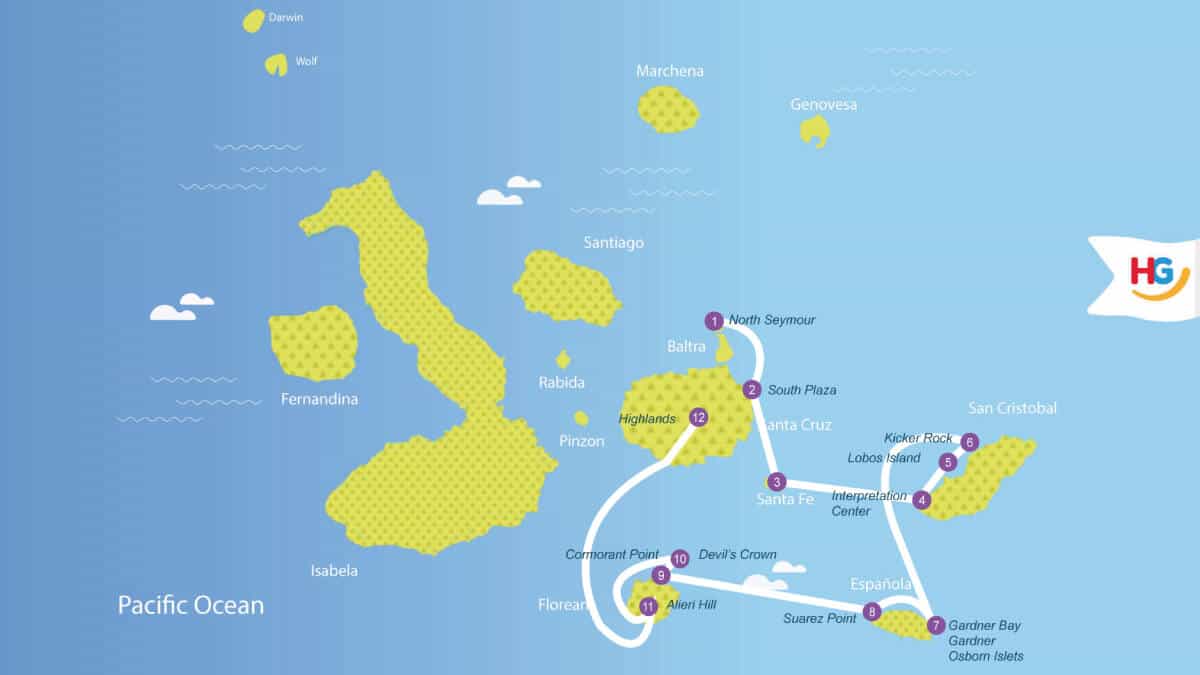 Alya Galapagos Cruise 6 days C
SAT: Seymour
SUN: Plazas: South Plazas & Santa Fe
MON: San Cristobal:Interpretation Center / Kicked Rock & Lobos Island
TUE: Española:Gardner Bay & Suarez Point
WED: Floreana:Cormorant Point/Devil's Crown & Alieri Hill
THU: Santa Cruz:Highland
New itinerary and map are under construction, please ask our sales team about updated information about this itinerary
Full Itinerary
Full Itinerary
Request free quote
Alya Catamaran Specifications
Length: 105 ft. (32 m)
Beam: 12.50 mts / 41.01 ft (not 17.2ft)
Speed: 12 knots max
Crew: 8 + 1 naturalist guide
Capacity: 16 passengers
Facilities
Private bathroom
Air conditioning: central
Toiletries
Room towels
Beach towels
Hair dryer
110v Electricity point in cabin
Safe deposit box
Sundeck
Lounge area
Bar
Jacuzzi
Reading Material
TV/DVD: Communal
Emergency Satellite Phone
Wetsuits for hire
Kayaks
Paddle boards
Snorkel Gear: included
Balcony in each cabin
Diving - Snorkeling
Snorkeling: equipment and wetsuits included
Diving possible: No
Included Services
Meals: From lunch on Day 1, until breakfast on the final day.
Accommodation with private bathroom.
Excursions as listed in the itinerary, with a certified naturalist bilingual guide (Spanish/English).
Snorkel equipment
Wetsuits
Use of kayaks & paddleboards
Unlimited purified water, tea, and coffee .
Excluded Services
Entrance fees Galapagos:

Galapagos National Park $100 pp (subject to change).
Galapagos transit control card $20 pp (subject to change).

Flight: International Flights + Quito/Guayaquil - Galapagos - Quito/Guayaquil.
Important Note: The Alya cruise obligates Happy Gringo to buy Galapagos flight tickets directly through them; failure to do so will unfortunately result in a penalty fee of US$60 per person, being charged to you by the yacht operator.
Airport transfers in Quito or Guayaquil.
Child discount: 10% (between 6-11 yrs old)
Singles supplement: 50%
Alcoholic beverages (there is a bar on board).
Tips for Guides and crew.
Any other personal expenses.
About Alya Galapagos Itineraries
On day 1 there is only time for an afternoon visit to be included; similarly, on the final day, there is only a brief morning visit. The reason for this is to connect with the Galapagos flight arrivals and departures at the airport.
High season rates apply during Christmas and New Year
Contact us for information about which itineraries will run on different dates through the year, and to check tour availabilities. We often have special Galapagos offers too!
All yacht information is correct at time of publishing but may be subject to change by the yacht operator or Galapagos National Park authority. Published prices may be subject to change without prior notice
About Cabins Aboard Alya
Cabin Distribution:

4 Upper Deck Cabins (6,7,8 & 9) : 18m2, convertible double matrimonial bed or twin beds, with balcony and panoramic windows.
4 Main Deck Cabins (2,3,4 & 5) :22m2, convertible double matrimonial bed or twin beds, with balcony and panoramic windows.
1 Main Deck Cabin (1) : 19m2, double matrimonial bed, panoramic window
It is possible to request the cabin of your choice at time of booking – just let us know your preference. Final decision on cabin allocation is always in the hands of the yacht operator.
HAPPY GRINGO YACHT RANKING
Outdoor Space
Social areas, sundeck, restaurant & bar area and boat design.
Cabin Space
Type and size of cabin, type of beds, windows and access to the cabins.
Comfort and Amenities
Special features, beach towels, air conditioning, jacuzzi, TV, toiletries.