Check out live Isabela II Galapagos Cruise availability
Highlights of the Isabela II Yacht
Category: Super Deluxe
The Isabela II is a luxury mega yacht with 20 guest cabins, for a comfortable yet intimate Galapagos experience.
One expert naturalist guide per 11 to 14 passengers surpasses National Park standards, and ensures a tailored individual attention throughout.
Delicious cuisine and choice of indoor or al fresco dining ensure you will never go hungry.
Excellent facilities include: hot Tub, fitness room, bar/lounge, large sundeck, elegant dining room, observation area, reading room / library, boutique/shop, and games room.
The onboard medical officer provides free consultations if required.
The Isabela II includes sea kayaks and glass bottom boat, be sure to reserve in advance if interested.
The excellent 7 Days itinerary around the western islands Isabela and Fernandina, and Genovesa in the north, is especially attractive.
Isabela II Galapagos Cruise
Itineraries and pricing 2022
Browse through the different cruise itineraries below by clicking on each one.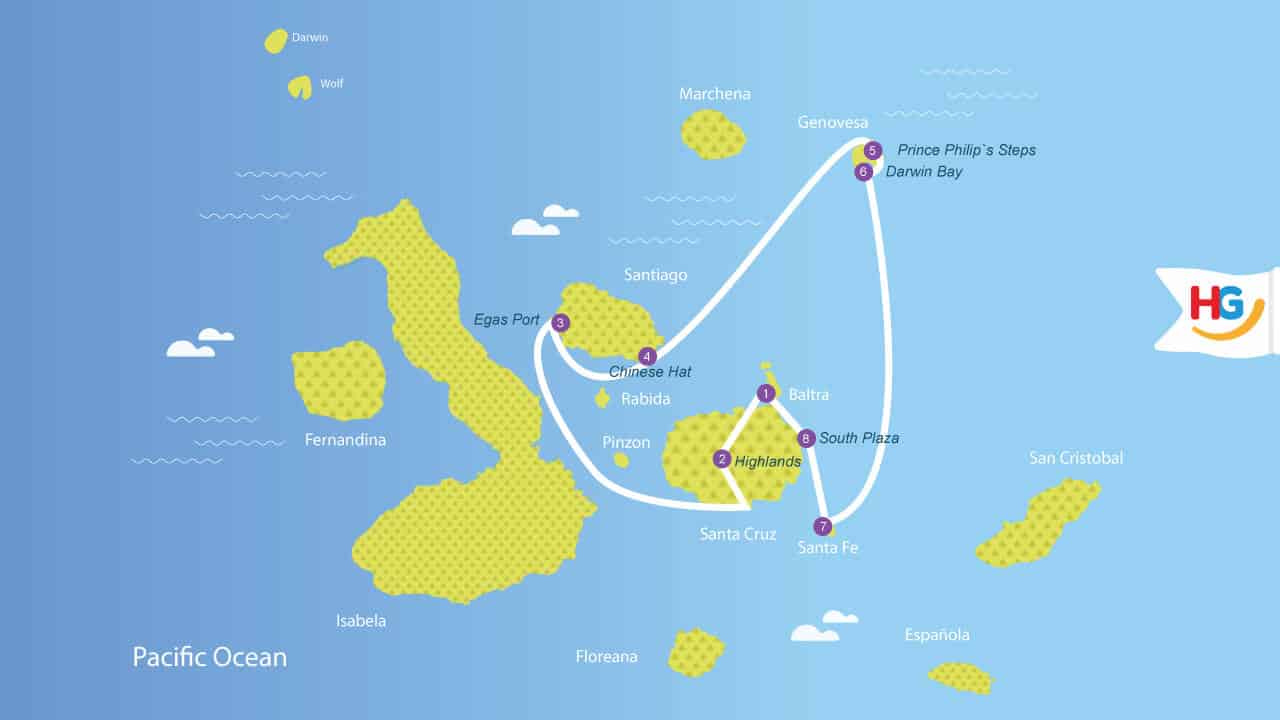 Owner's Cabin

$4934

Per person

Classic Cabin

$4720

Per person

Standard Cabin Cabin

$4450

Per person
5 days - Northern Galapagos
MON Baltra: Transfer from the airport ,Highlands of Santa Cruz Island
TUE Puerto Egas (Santiago Island) , Chinese Hat Islet
WED Prince Philip's Steps (Genovesa Island), Darwin Bay (Genovesa Island)
THU Santa Fe Island, South Plaza Island
FRI Baltra: Transfer to the airport
Full Itinerary
Full Itinerary
Request free quote
Owner's Cabin

$4934

Per person

Classic Cabin

$4720

Per person

Standard Cabin Cabin

$4450

Per person
5 days - Western Galapagos
THU Baltra: Transfer from the airport, Puerto Ayora and the Charles Darwin Research Station
FRI Bartolome Island, Sullivan Bay (Santiago Island)
SAT Dragon Hill (Santa Cruz Island), Buccaneer Cove (Santiago Island)
SUN Punta Vicente Roca (Isabela Island), Punta Espinoza (Fernandina Island)
MON Baltra: Transfer from the airport
Full Itinerary
Full Itinerary
Request free quote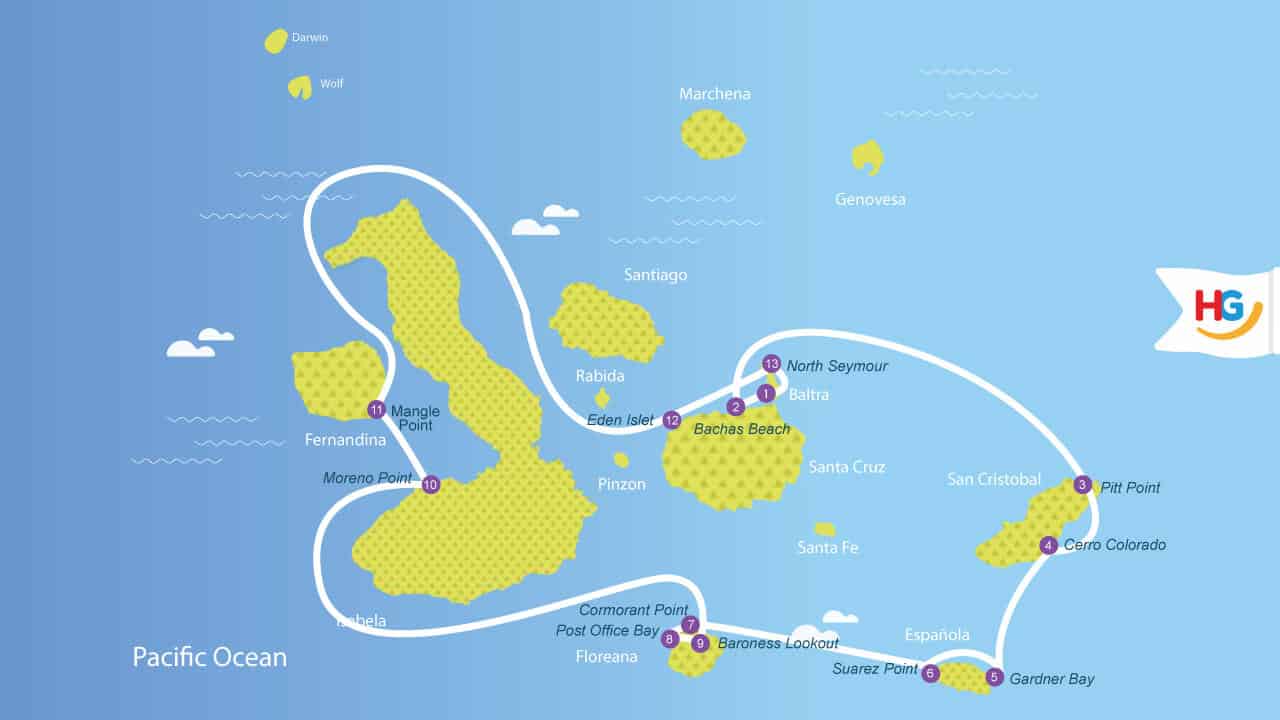 Owner's Cabin

$6653

Per person

Classic Cabin

$6253

Per person

Standard Cabin Cabin

$5990

Per person
7 days -Southeastern Galapagos
FRI Baltra & Santa Cruz Islands: Las Bachas
SAT San Cristobal Island: Punta Pitt , Cerro Colorado
SUN Española Island: Gardner Bay, Punta Suarez
MON Floreana Island: Cormorant Point, Post Office Bay & Baroness Cove
TUE Isabela & Fernandina Islands: Punta Moreno, Punta Mangle (Fernandina Island)
WED Santa Cruz & North Seymour Islands: Eden Islet , North Seymour Island
THU Baltra: Transfer to the airport
Full Itinerary
Full Itinerary
Request free quote
Isabela II Yacht Specifications
Length: 183 feet
Beam: 38 Feet
Speed: 10 knots
Crew: 26
Capacity: 40 passengers
Facilities
Private bathroom
Air conditioning: Central and cabins with individual controls.
Toiletries
Room towels
Beach towels
Hair dryer
110v Electricity point in cabin
Safe deposit box
Sundeck
Lounge area
Bar
Jacuzzi
TV/DVD: Communal
Emergency Satellite Phone
Wetsuits For Hire
Kayaks
Natural History Library
Indoor fitness area (gym)
Glass-bottom boat
Free internet Wi-Fi
"Al fresco" dining
Diving - Snorkeling
Snorkeling: Equipment included (mask, snorkel, fins), wetsuits available for rent $17+IVA (4 or 5 days) $33+IVA (7 days).
Diving possible: No.
Included Services
Meals: From lunch on Day 1, until breakfast on the final day.
Accommodation with private bathroom.
Excursions as listed in the itinerary, with a certified naturalist bilingual guide (Spanish/English).
Snorkel equipment
Unlimited purified water, tea, coffee, snacks.
Shared transfer from major hotels in Quito / Guayaquil on day 1.
Excluded Services
Entrance fees Galapagos:

Galapagos National Park $100 pp (subject to change).
Galapagos transit control card $20 pp (subject to change).

Flight: International Flights + Quito/Guayaquil - Galapagos - Quito/Guayaquil.
Airport transfers in Quito or Guayaquil.
Wetsuits rental: 20$ 5 days/ 36$ 7 days
Child discount: 10% (under 12 yrs old)
Singles supplement: twin/doble cabins for single use 100%
Alcoholic beverages & colas (there is a bar on board).
Tips for Guides and crew.
Any other personal expenses.
Christmas date surcharge $199pp
About Itineraries
On day 1 there is only time for an afternoon visit to be included; similarly, on the final day, there is only a brief morning visit. The reason for this is to connect with the Galapagos flight arrivals and departures at the airport.
High Season rates apply from December 23 to January 06.
Contact us for information about which itineraries will run on different dates through the year, and to check tour availabilities. We often have special Galapagos offers too!
All yacht information is correct at time of publishing but may be subject to change by the yacht operator or Galapagos National Park authority. Published prices may be subject to change without prior notice
About Cabins
Cabin Distribution:
16 Classic Cabins (1-10/16-21) – 12m2, twin beds, with small windows.
2 Classic Family Cabins (11 & 12) – 12.8m2, double matrimonial bed + sofa bed, with small windows.
1 Standard Cabin (14) – 12m2, double matrimonial bed, with small window.
Triple Cabins: classic family cabins can be used as triple cabins.
It is possible to request the cabin of your choice at time of booking – just let us know your preference. Final decision on cabin allocation is always in the hands of the yacht operator.
Main Deck
Dining room, library and computer station gift shop, infirmary, restroom, bar station, disembarkation gangway
Owner's cabin 170 ft2 / 18,90 mt (queen size matrimonial bed)
Cabin Deck
16 classic cabins 139 ft2 / 12,80 m2 (Twin beds)
2 standard cabins 128 ft2 / 12,05 m2 (Queen beds)
2 classic family cabins 139 ft2 / 12,80 m2 (for two adults and one child up to 12 years)
Boat Deck
Al fresco bar, hot tub and fitness room
HAPPY GRINGO YACHT RANKING
Outdoor Space
Social areas, sundeck, restaurant & bar area and boat design.
Cabin Space
Type and size of cabin, type of beds, windows and access to the cabins.
Comfort and Amenities
Special features, beach towels, air conditioning, jacuzzi, TV, toiletries.
Delphine, Bordeaux- France
This was the perfect experience for me and my family, we are used to travel in big cruises and when I learned that in the Galapagos there are mostly really small yachts, I was concerned about getting sea sick or felling claustrophobic, the Isabella was the perfect compromise, not as a small as the other boats but you still felt like the service was very personalized and we got the opportunity to meet and bond with a great group of people. We are so happy we choose to go to this magnificent place, in this great cruise.