CHECK OUT LIVE GALAPAGOS CRUISE AVAILABILITIES
Galapagos Cruises
The best way to discover the true diversity of the Galapagos islands is on a live-aboard Galapagos cruise!
Explore the archipelago aboard a Galapagos yacht with comprehensive itinerary & experienced naturalist guide. Come aboard with us to explore the best wildlife & most stunning scenery at Galapagos.
CLASS FILTER
YACHT TYPE FILTER
YACHT CAPACITY FILTER
PRICE FILTER PER DAY
WHAT IS A GALAPAGOS CRUISE?
A Galapagos cruise is a live-aboard experience, meaning that you sleep and eat aboard a yacht for the duration of your trip. At night the yacht sails between different islands, so you wake up somewhere new each day, ready to explore.
Daily tours are made to Galapagos National Park visitor sites, with an English-speaking naturalist guide. Activities on a Galapagos cruise include trekking, wildlife viewing and snorkeling / swimming. Some yachts also carry kayaks.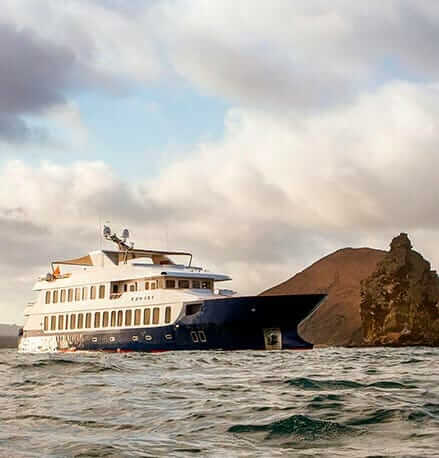 HOW TO CHOOSE BETWEEN DIFFERENT GALAPAGOS YACHTS?
To choose the perfect Galapagos cruise you should consider:
Yacht type (cruise ship, small motor yacht, catamaran or motor sailor)
Your trip budget
Yacht availabilities for your travel dates
Galapagos cruise itinerary
Yacht amenities & comfort
It can quickly become overwhelming with so many options. That's why we recommend getting in touch with Happy Gringo.
Let our experienced team of Galapagos experts take all the stress out of making your Galapagos cruise choice. Together we help to weigh up the pros and cons of each yacht, to find your perfect Galapagos cruise!