Antisana Ecological Reserve (Reserva Antisana)
Antisana Ecuador is one of the country's best kept secrets for outdoors lovers. This rugged Andean landscape is home to a wealth of interesting wildlife including condors, hummingbirds and spectacled bears. On a clear day visitors can also enjoy spectacular views of snow-capped Antisana volcano. Perhaps best of all though, Antisana Reserve is still relatively off of the beaten tourist path. All of the above highlights make Antisana a highly recommended escape from Quito.
Keep reading for a complete visitor guide for Reserva Antisana Ecuador. Everything you need to make your trip a success - from trip planning advice, to birding and wildlife tips.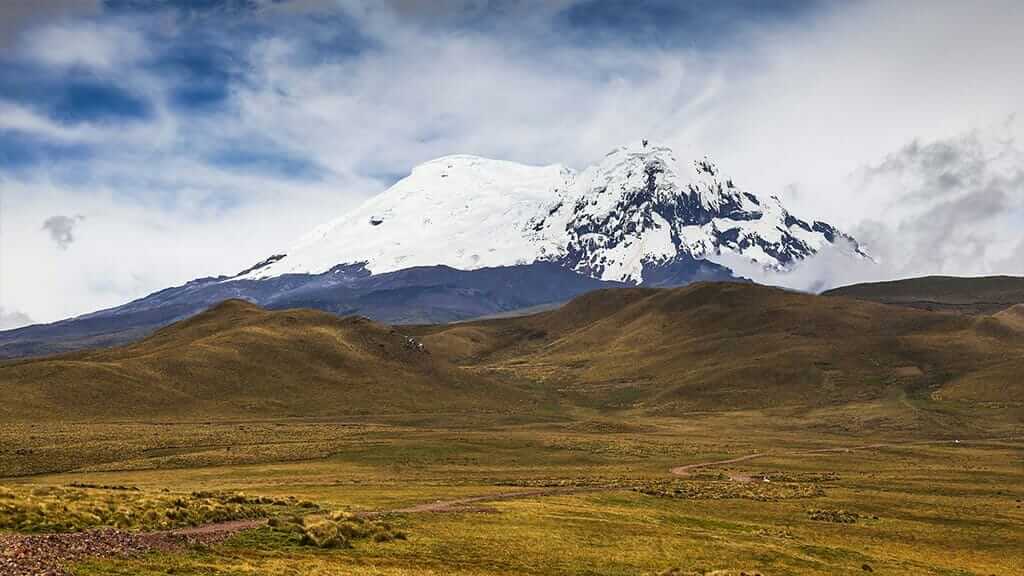 Top 6 Highlights of Antisana Reserve
The pristine nature of Antisana Ecological Reserve is packed with things to do and see. There's a little of something for everyone.
These are our top 6 highlights to look out for in a 1-day visit.
1. Antisana Volcano (Volcan Antisana)
Even before tourists catch sight of Volcan Antisana itself, there is evidence of her destructive past. Ancient lava flows are footsteps from the past, setting the scene as visitors make their way into the reserve. The very shape of these landscapes were crafted by volcanic activity and glacial retreat over many, many years.
Antisana Volcano is one of Ecuador's more timid peaks, often shrouded behind a poncho of cloud. Visitors have luck on their side when she blesses them with an appearance. Yet there are few views as spectacular in Ecuador's Andes as snow-capped Antisana Volcano under blue skies.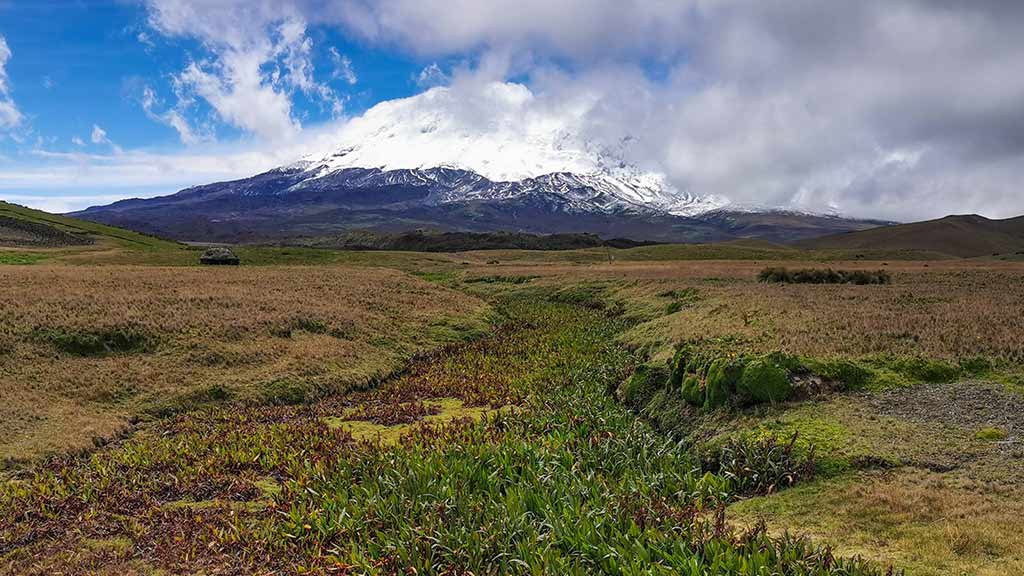 Adding to Antisana's aura of mystery, her name translates as 'dark mountain' in local tongue. A stratovolcano, she is estimated to be around 800,000 years old, and is Ecuador's 4th tallest peak (5,753m / 18,870 ft) after Chimborazo, Cotopaxi and Cayambe.
Although Antisana appears to have 2 seperate peaks, in reality it is one single crater that partially collapsed during a previous eruption. It's possible to climb Antisana's highest peak. This is one of Ecuador's more technical and challenging climbing routes, suitable for experienced mountaineers together with guides.
2. Antisana Reserve Bird Watching
Antisana is also a haven for birdlife, home to an impressive 418 different species. So, if bird watching is your thing, have binoculars at the ready!
The most famous feathered Antisana resident is the Andean Condor. Today there are fewer than 100 wild condors in Ecuador, and Antisana Reserve is often the very best place to spot them. Make a stop at Isco Lookout (Peñas del Isco), and focus on the sheer cliff face in front of you. Condors nest on the ledges, and enjoy gliding the thermals above too. Also keep your eyes to the skies for condors in any other area of the park.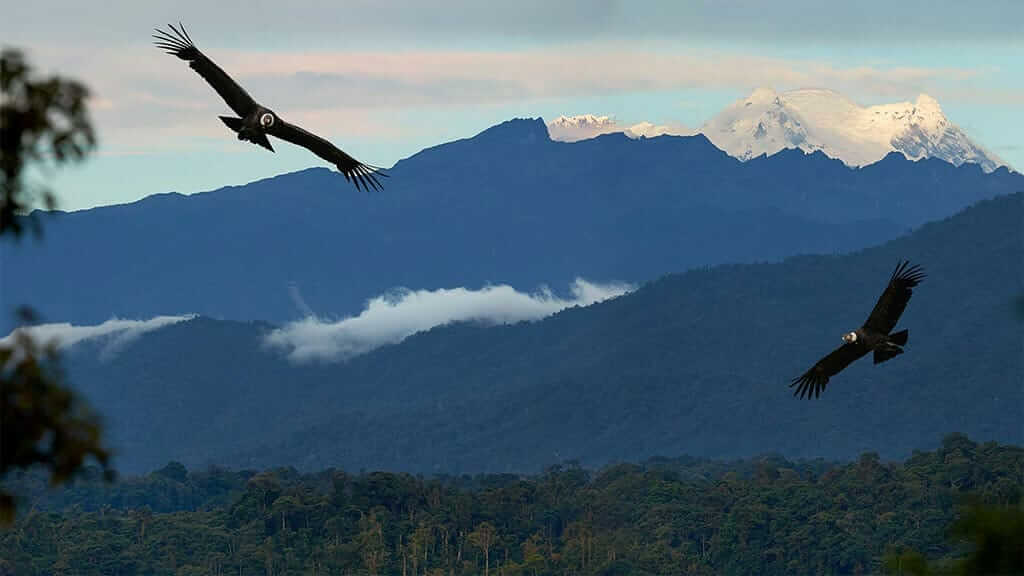 For hummingbirds check out the feeders around Tambo Condor (a hundred meters along the road before Peñas del Isco). Shining Sunbeams, Tyrian Metaltails and Sparkeling Violeteers are common here, as is the largest species on the planet – the Giant Hummingbird (Patagona Gigas). Long trumpet flowers also attract sword-billed hummingbirds in season, using his spectacular long beak to find pollen where only he can reach. At Antisana it's also possible to spot an endemic species to the country – the Ecuadorian Hillstar.
Look out for large birds of prey on the open Andean plains. The Carunculated Cara Cara is a feature of the reserve, and has little fear of visitors or passing cars. Other apex predators include various species of hawk, falcon, buzzard eagles and more besides.
Head to the lakes for shore birds, waders and ducks, including the Andean Coot, Silvery Grebe, Yellow-billed pintail, Brown-speckled Teal and Andean Ruddy Duck.
Last but certainly not least, Antisana Ecological Reserve is THE place to spot Ecuador's Black-faced Ibis. By no means a guaranteed sighting this rare bird likes the open grasslands close to Micacocha Lake.
For maximum enjoyment of Antisana's birdlife we recommend going with a specialist birding guide. An experienced guide is a huge plus when it comes to spotting and species identification.
3. Trek at Laguna Micacocha Antisana
While Antisana is not a place for long day treks, there are several short trails from the Laguna Micacocha Visitor Center to be enjoyed
The most popular route runs parallel to the lake shore, passing through typical plants and vegetation of the zone. Rabbits hop around the Andean grasses, and there are views of the ducks and waders feeding in the shallows. The trail then bends around to the left and upwards, with the option to head higher up Micaloma hill for panoramic views.
Micacocha Lagoon is of glacial origin and icy cold. Today, it is source of some of around ¼ of Quito's water supply. There are also other smaller seasonal lakes that fill up during the rainy season, and provide interesting alternative treking routes.
Besides the aforementioned birdlife, Antisana is also home to a great diversity of other wildlife. In total 73 species of mammal, and 61 species of amphibian and reptiles are found within the borders of the reserve.
Some of the more common mammal sightings include white-tailed deer, alpaca, wild horses and rabbits. shyer creatures like the puma, Andean bear, Andean fox and mountain tapir are more difficult to cross paths with, but are in and around the park nonetheless.
Antisana even has an endangered species of toad named after it – the Antisana Plump Toad (Osornosapo de Antisana). Small in size and brown in color, this little fella enjoys the moist habitat under mossy rocks.
The Andean Paramo habitat of Antisana Reserve is exposed and harsh for plantlife, but there is plenty of interesting flora if you know where to look.
The dominant plant is a sturdy straw-like grass which grows pretty much everywhere on the open plains. Also look out for the interesting cushion plants (almohadillas). Their sponge-like consistency plays a vital role in the water storage of this ecosystem. Absorbing rainfall and run-off, the almohadilla acts as a storage of water, which is released slowly over time. This maintains humidity in the ecosystem, supporting other plants and animals in the process.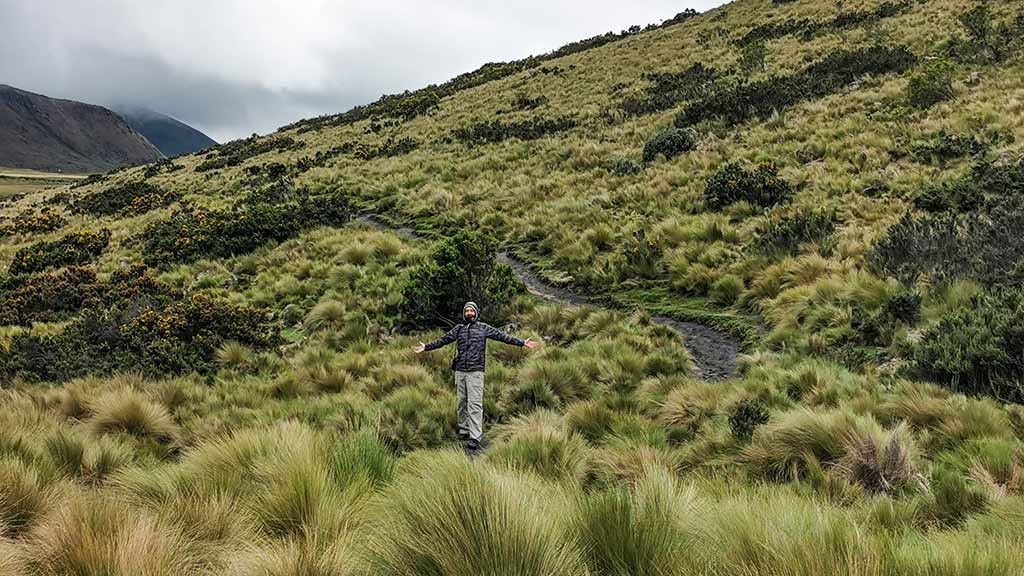 Other plants to look out for include the Polylepis (Quinoa) – the world's highest altitude tree. It's easy to recognise for it's thin, red-brown, peeling bark, which also gives it the nickname "the paper tree". Remarkably the Polylepis can grow above the regular tree line, at altitudes of up to 5000m. But there is a price to pay for occupying such lofty heights; the Polylepis grows painfully slowly, taking 160 years to grow just ½ inch in diameter!
Ecuador's emblemic Chuquiragua thistle also grows in the reserve, easily identified by it's pretty orange flower.
One final curiosity of Reserva Antisana is Humboldt's hut (Choza Humboldt). The great German explorer and naturalist Alexander Von Humboldt stayed here back in 1802. Despite a failed attempt at climbing to the summit of Antisana Volcano, Humboldt did perform important studies on the flora and fauna of the Andean Paramo.
A project is underway in 2021/22 to restore the derolict hut to it's former glories, and convert it into a park museum.
How to visit Antisana Ecuador?
Antisana Ecological Reserve is located in Napo Province, Ecuador. The best news for visitors is that it's a mere 62 miles (100 km) away from capital city Quito.
While there is no bus service into Reserva Antisana, it's easy to reach by private car. Just head on the Quito - Sangolquí – Píntag road, and from Pintag town plaza follow the signs for Antisana.
The easiest way for foreign tourists to visit Antisana Ecological Reserve is on an organised tour. Happy Gringo operate private Antisana day tours from Quito on any day throughout the year. We even have specialist birding guides available too.
Another interesting alternative is to combine a day at Antisana with an overnight soak at nearby Papallacta Hot Springs.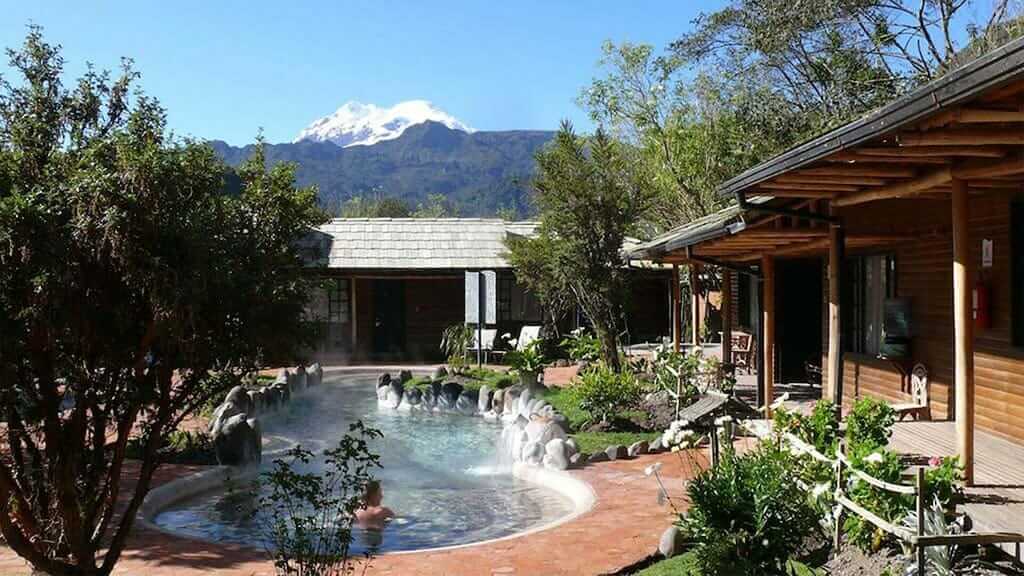 Fast Facts About Antisana Reserve
Antisana Reserve was created in 1993. In total the reserve covers 120,000 hectares of protected land on the Eastern range of the Andean mountains.
Altitude in the reserve ranges from 1,400 meters, all the way up to 5,758m above sea level at Antisana Volcano's summit. Most tours of the reserve reach a high point of 3,925m at Laguna Micacocha, or a little higher for those who trek up Micaloma hill.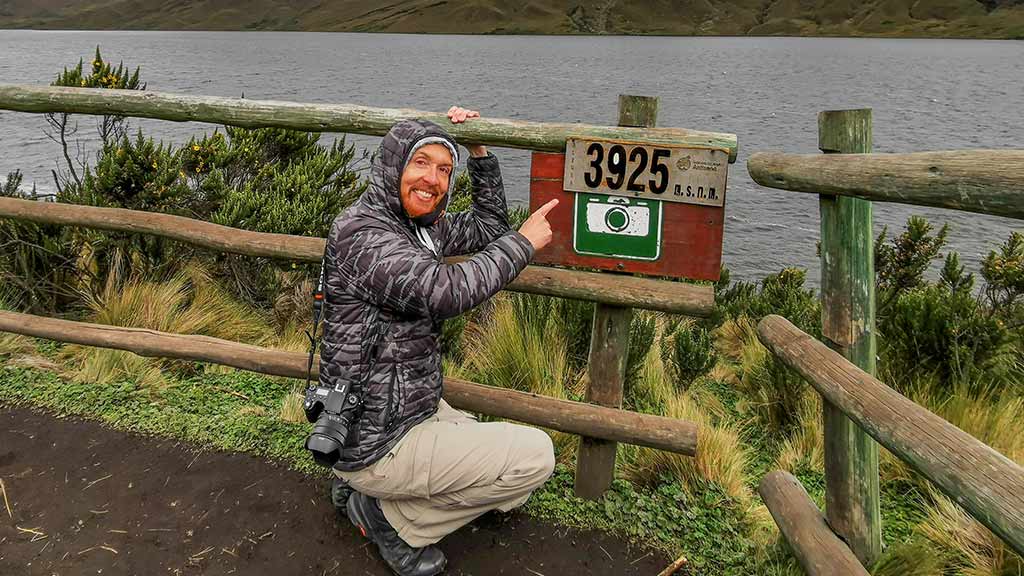 Most visitors will feel the thinner air. With less oxygen to breathe your lungs will get a great workout, and you'll feel your heart beating faster. We recommend a couple of acclimatisation days in Quito or other parts of the Andes before visiting Antisana. This way your body is already producing more red blood cells to carry oxygen more effectively around your system.
For more tips to help avoid altitude sickness, check out our Quito elevation blog.
Typical Weather at Antisana Reserve
Up at high elevations in the Andes mountains the weather is inevitably cold and unpredictable. The average Antisana Reserve temperature is just 5 degrees Celcius, with a high of 15, and of low -1.
Visitors should prepare for 4 season in one day – a strong sun when it shines, cold wind when it bites, and a reasonable probability of rain (or even icy hail) most days. Whilst this weather forecast may sound quite miserable, in reality it helps to create this habitat so rich in interesting flora and fauna for visitors to enjoy.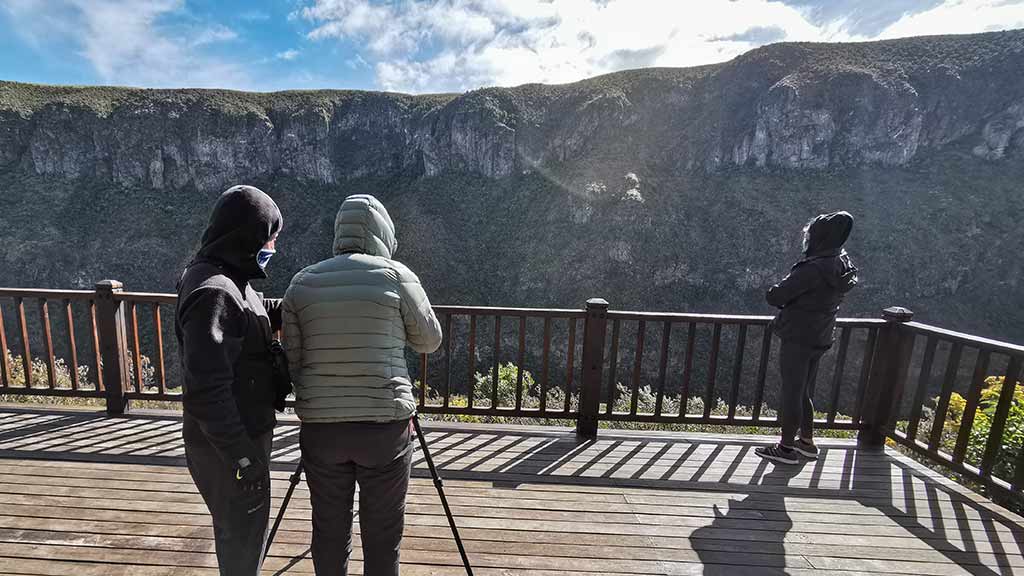 Practicalities for visiting Reserva Antisana
• Get there early to improve chances of clear skies and fine views. It's also best to visit during the week and avoid busier weekend days.
• Go prepared! Cold weather gear like gloves and wooly hat are recommended, as is rain gear and warm layers to keep the cold out. You'll also need a good pair of walking boots. Sun protection is always required – sun glasses and high factor suncream to avoid burning, even on cloudy days. Also take lots of drinking water and energy snacks to keep you going.
• Take binoculars with you for closer views of birds and wildlife, or a spotting scope or high zoom camera.
• There is no entry fee, but visitors are required to sign in at Micacocha Lake visitor center. There are also restrooms available here.
• For lunch either take your own snacks along, or visit Tambo Condor restaurant (close to Isco lookout) for a filling 3-course local menu.
• It is possible to camp in the reserve, although nights are often bitterly cold. No pets are allowed.
• Last permitted entry time at the national park gate is strictly 14:00 each day. Remember that the gate is further into the park than Isco lookout, so be sure to allow enough time to get there and avoid disappointment.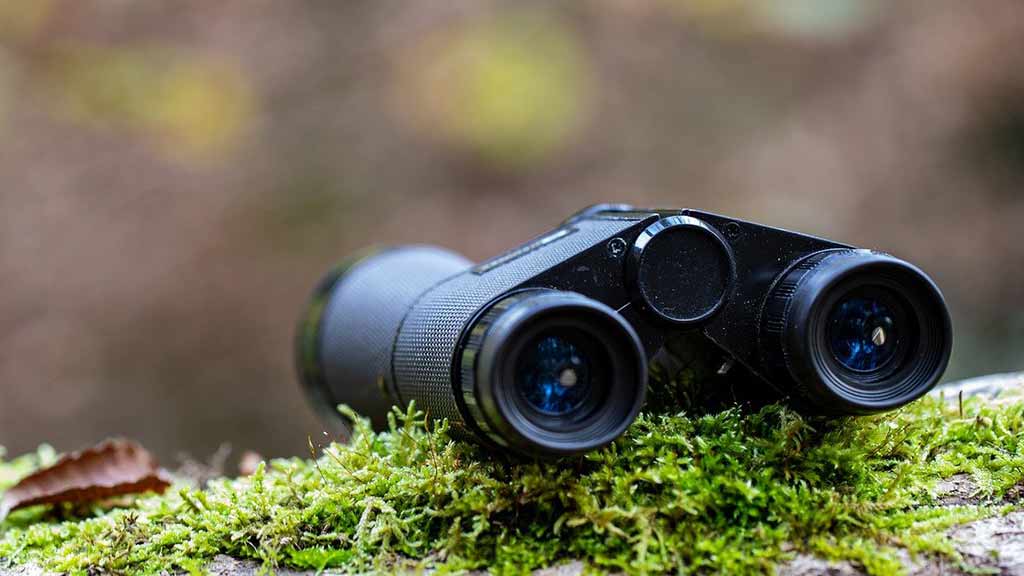 Contact us for a free tour quote – Happy Gringo specialise in custom-made trips right across Ecuador and Galapagos. We'll be happy to include a trip to Antisana ecological reserve into a vacation itinerary for you.
In conclusion, Antisana Ecological Reserve offers the perfect escape from Quito. As well as sweeping Andean scenery, visitors can spot a diverse range of wildlife, and with luck catch a glimpse of Volcan Antisana. Bird watching is also a delight, with great opportunities to spot the famous Andean Condor. If you're looking for something a little different, and a chance to escape the regular tourist path, Antisana makes for a highly rewarding visit!