Check out live Eco Galaxy II Galapagos Cruise availability
Highlights of the EcoGalaxy II Catamaran
The EcoGalaxy II is a fantastic eco-catamaran, specifically designed and built for cruising at the Galapagos Islands.
The double hull design allows for smoother cruising, whilst highly efficient motors and eco-friendly best practices help to reduce the impact of your Galapagos Islands visit.
The EcoGalaxy Galapagos catamaran has comfortable cabins, all with lower beds (twin or double). Guests will find more luggage space than on many other Galapagos yachts, as well as large windows with great ocean views.
The EcoGalaxy II boasts attractive & modern interior design throughout, plus ample social areas for relaxing during downtime. These include a dining room, living room, bar area, sun deck & boutique.
Kayaks are available on board the EcoGalaxy for guest use - be sure to reserve in advance if interested.
Eco Galaxy II Galapagos Cruise Prices
Itineraries and pricing 2023
Browse through the different cruise itineraries below by clicking on each one.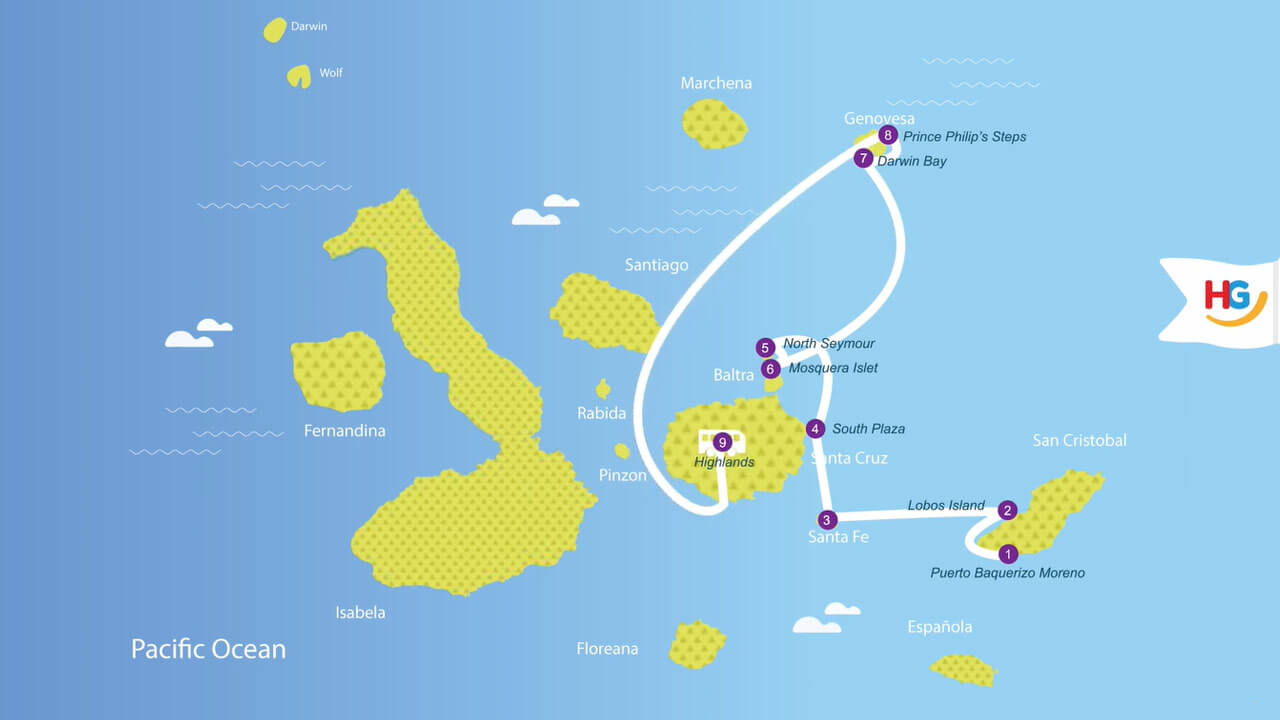 EcoGalaxy II Itinerary for 5 days - A
TUE San Cristobal Airport - San Cristobal: Lobos Island
WED Santa Fe & South Plaza
THU Seymour: North Seymour & Mosquera Islet
FRI Genovesa: Darwin Bay & Genovesa: Barranco
SAT Santa Cruz: Highlands – Transfer to Baltra airport
Full Itinerary
Full Itinerary
Request free quote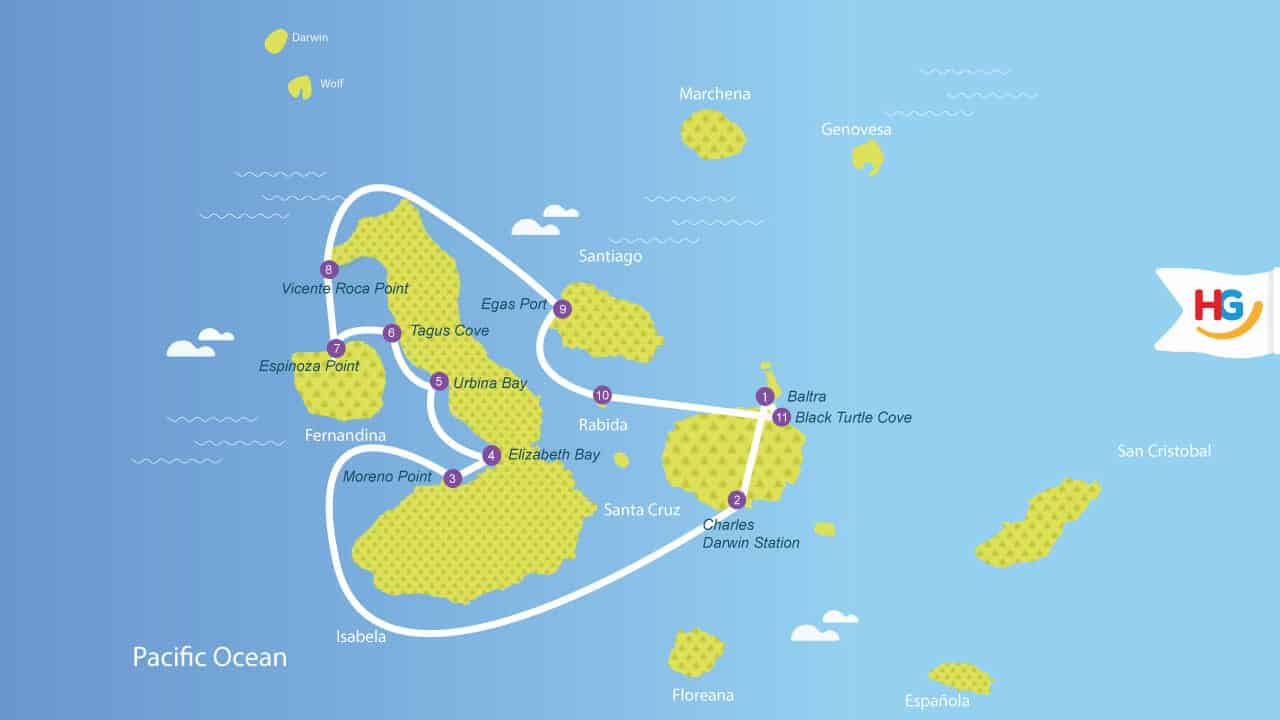 EcoGalaxy II Itinerary for 6 days - B
SAT Baltra Airport – Santa Cruz: Charles Darwin Station
SUN Isabela: Moreno Point, Isabela: Elizabeth Bay,
MON Isabela: Urbina Bay, Tagus Cove
TUE Fernandina: Espinoza Point, Isabela: Vicente Roca Point
WED Santiago: Egas Port, Rabida: Rabida
THU Santa Cruz: Black Turtle Cove Transfer to Baltra Airport
Full Itinerary
Full Itinerary
Request free quote
EcoGalaxy II Itinerary for 6 days - C
THU Baltra airport - Santa Cruz: Bachas Beach
FRI Santiago: Sullivan Bay, Bartholomew
SAT Santa Cruz: Highlands, Santa Cruz: Charles Darwin Station
SUN Floreana: Cormorant Point / Devil's Crown, Post Office Bay
MON Española: Suarez Point, Gardner Bay & Gardner Islet, Osborn Islet
TUE San Cristobal: Interpretation Centre & Transfer to San Cristobal´s airport
Full Itinerary
Full Itinerary
Request free quote
EcoGalaxy II Galapagos Catamaran Specifications
Length: 31m
Beam: 10.5m
Speed: 9 - 10 knots
Crew: 8 + 1 guide
Capacity: 16 passengers
Facilities
Private bathroom
Air conditioning
Toiletries
Room towels
Beach towels
Hair dryer
110v Electricity point in cabin
Safe deposit box
Sundeck
Lounge area
Bar
Reading Material
TV/DVD
Wetsuits for hire
Kayaks
Paddle boards
Jacuzzi
Snorkel Gear: included
Diving - Snorkeling
Snorkeling: Gear (Mask, tube and fins) included.
Diving possible: No
Included Services
Meals: From lunch on Day 1, until breakfast on the final day.
Accommodation with private bathroom.
Excursions as listed in the itinerary, with a certified naturalist bilingual guide (Spanish/English).
Snorkel equipment
Wetsuits
Use of kayaks & paddleboards
Unlimited purified water, tea, and coffee.
Excluded Services
Entrance fees Galapagos:

Galapagos National Park $100 pp (subject to change).
Galapagos transit control card $20 pp (subject to change).

Flight: International Flights + Quito/Guayaquil - Galapagos - Quito/Guayaquil.
Important Note: The Eco Galaxy cruise obligates Happy Gringo to buy Galapagos flight tickets directly through them; failure to do so will unfortunately result in a penalty fee of US$60 per person, being charged to you by the yacht operator.
Airport transfers in Quito or Guayaquil.
Child discount: 10% (between 6-11 yrs old)
Singles supplement: 50%
Alcoholic beverages (there is a bar on board).
Tips for Guides and crew.
Any other personal expenses.
About EcoGalaxy II Itineraries
On day 1 there is only time for an afternoon visit to be included; similarly, on the final day, there is only a brief morning visit. The reason for this is to connect with the Galapagos flight arrivals and departures at the airport.
Contact us for information about which itineraries will run on different dates through the year, and to check tour availabilities. We often have special Galapagos offers too!
All yacht information is correct at time of publishing but may be subject to change by the yacht operator or Galapagos National Park authority. Published prices may be subject to change without prior notice
About Cabins
EcoGalaxy II Cabin Distribution:
4 Upper Deck Cabins (6,7,8 & 9) – 20m2, convertible double matrimonial bed or twin beds, with panoramic windows.
4 Main Deck Cabins (2,3,4 & 5) – 22m2, convertible double matrimonial bed or twin beds, with panoramic windows.
Triple Cabins: Cabins 2 and 3 can be uses as triple cabins with double matrimonial or twin + sofa bed.
It is possible to request the cabin of your choice at time of booking – just let us know your preference. Final decision on cabin allocation is always in the hands of the yacht operator.
HAPPY GRINGO YACHT RANKING
Outdoor Space
Social areas, sundeck, restaurant & bar area and boat design.
Cabin Space
Type and size of cabin, type of beds, windows and access to the cabins.
Comfort and Amenities
Special features, beach towels, air conditioning, jacuzzi, TV, toiletries.