GALAPAGOS WEATHER & CLIMATE
Probably the most frequently asked question when planning a Galapagos vacation is: WHEN IS THE BEST TIME TO VISIT GALAPAGOS? The short answer is that there is no "best" or "worst" time for Galapagos travel. The Galapagos Islands are a fabulous year-round destination, and Galapagos weather is pleasant throughout the year. There are no weather extremes here, no snow or frost, no hurricanes, nor extreme hot or cold temperatures.
Of course, there are subtle differences in Galapagos each month. Dry season vs Wet season weather. Changing water temperatures for snorkeling. Peak vs Off-season tourist months. Different wildlife seasons for nesting, mating, hatching & parenting. Each of these factors can make a difference to your enjoyment of the Galapagos Islands. So we have prepared this Galapagos weather blog post to hold your hand and guide you through the confusion.
Keep reading for everything you need to know about Galapagos weather & climate. We provide information about average air and water temperatures each month, average rainfall, and typical wildlife behavior. Everything you need to decide When is the best time FOR ME to go to Galapagos?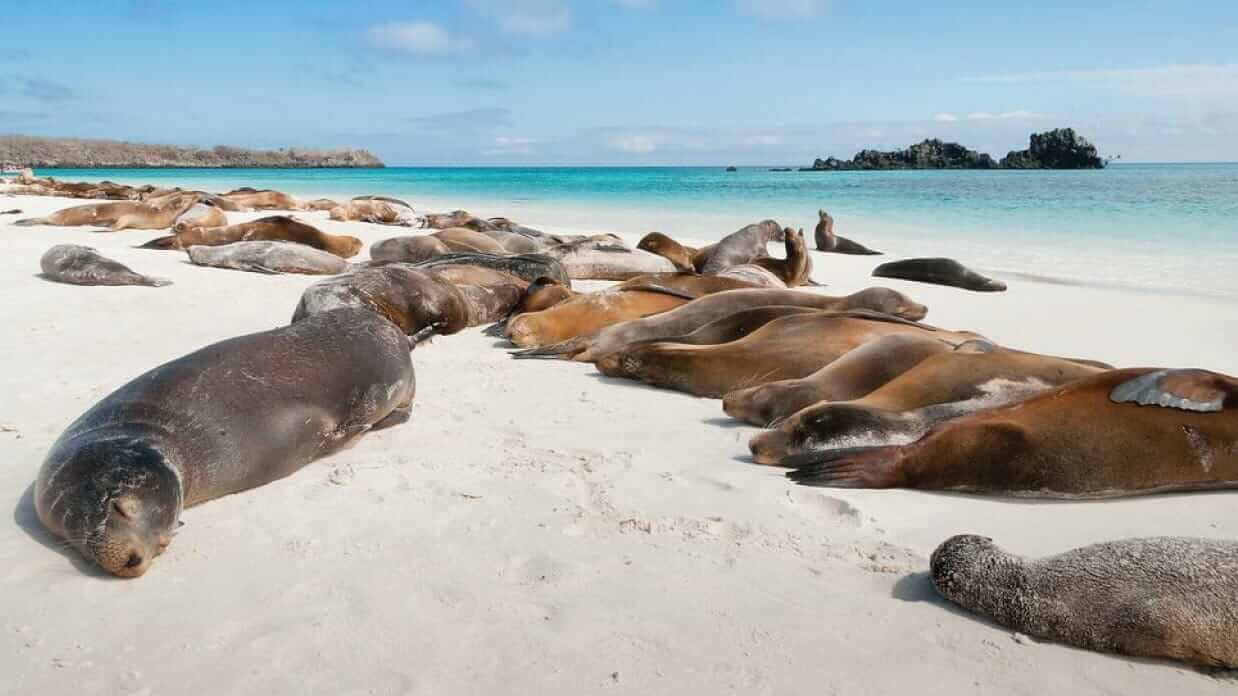 Galapagos weather: a tale of two seasons
The Galapagos islands has two distinct climate seasons: 1. Warm & Wet, and 2. Cool & Dry. The difference between each season is quite subtle, but does impact life at the Galapagos.
Don't worry, in both Galapagos weather seasons you'll still get to see all of the wonderful wildlife and stunning volcanic panoramas. But it does pay to understand the differences when you plan your trip. The Galapagos islands are a once in a lifetime experience, so you want to get it right!
Here is a summary of what to expect in each Galapagos climate season:
Warm & Wet Season
The WARM & WET Galapagos season runs roughly from December/January through to May.

Galapagos weather in the warm and wet season is sunny and warm, but occasionally wet. So visitors can expect plenty of sun, warm temperatures on land and at sea, and occasional rain showers. You'll probably go home with a healthy tan, but sun protection is a must to prevent sunburn. Rain gear is a good idea for island excursions, especially in the highlands.
The rains are welcome in the Galapagos highlands, causing a dramatic transformation of this important habitat. Wet weather produces lush green vegetation, perfect conditions for land species such as the Giant Tortoise, Galapagos Finches & other land birds who find food sources plentiful.
Galapagos marine species are also easily spotted during the warm and wet season, even though the warmer seas are not their ideal conditions for feeding or breeding.
Cool & Dry Season
The Galapagos COOL & DRY climate season runs approximately from June to December.

This season brings cloudier skies, cooler temperatures on land and at sea, and a dry climate. Many visitors find this season more pleasant for excursions. Sun protection is still important – even on cloudy days it is easy to burn so close to the equator. A wetsuit is recommended for snorkeling as the sea temperatures drop. Leave your rain gear at home, there is little or no rainfall during this Galapagos climate season.
Now it's time for the Galapagos marine species to shine. The cold Humboldt current brings rich nutrients from the Antarctic to Galapagos waters. These are optimal conditions for Galapagos Sealions, Marine iguanas, Sharks and Seabirds like the blue footed booby and Waved Albatross. Migratory whale species are also attracted to the Galapagos islands to feed.
In contrast the dry weather leaves the highlands bare. You'll still see plenty of Galapagos land wildlife, but the plants and flora are waiting for the rains to return.
Remember, both Galapagos climate seasons are great times to visit the islands. There is no best or worst season, it all comes down to personal preference. Whichever month you choose to travel you'll have an unforgettable trip!
Galapagos Weather By Month
Check out the graphs below for the easiest way to compare weather in Galapagos by month across the year.
Average Galapagos Temperature By Month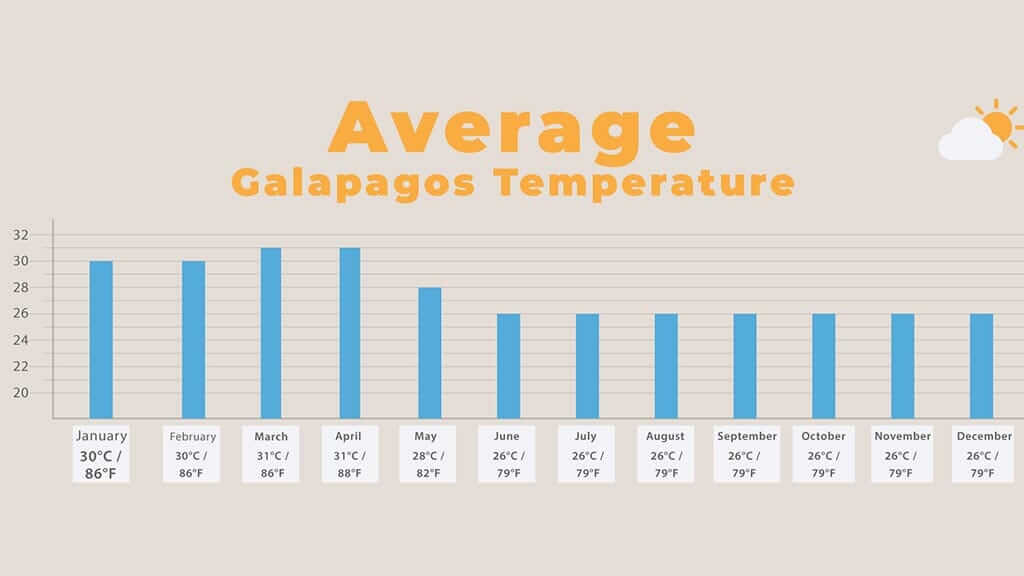 When are the warmest months at Galapagos? March and April boast top Galapagos temperatures with an average of 31 degrees celcius (88 Fahrenheit), with January and February not far behind. So if you want to show off a Galapagos suntan then these are the best months to travel.
When is the coldest month in Galapagos? All months from June to December average out at 26 celcius (79 Fahrenheit). Many visitors prefer these cooler temperatures, making it more comfortable for Galapagos treks and excurions.
Galapagos Rainfall by month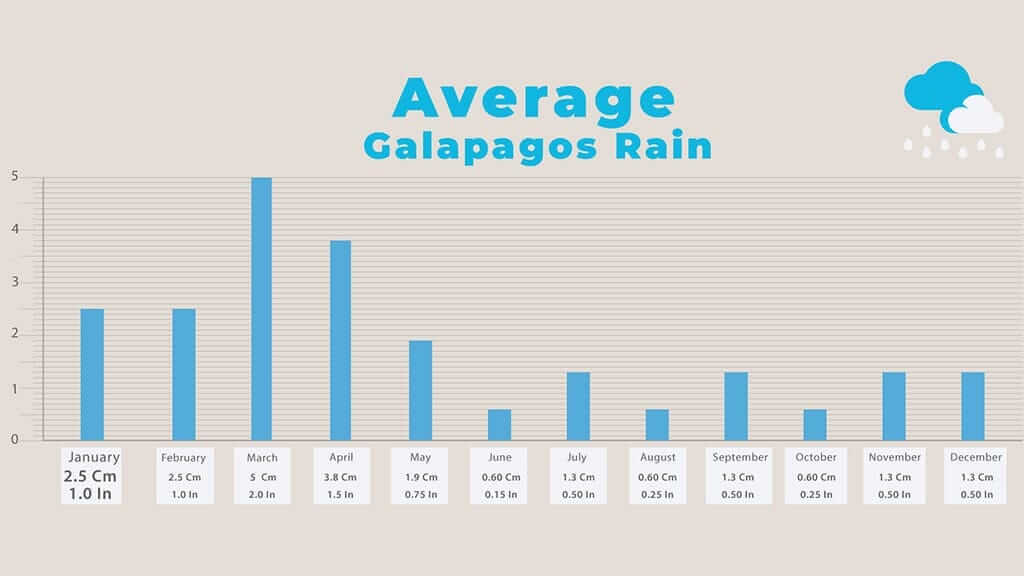 When are the rainiest months at Galapagos? March is the rainest Galapagos month with 2 inches of rain (5cm), closely followed by April, then January and February. If you want to avoid wet weather then travel to Galapagos during the dry season from June to December.
Galapagos Water Temperature By Month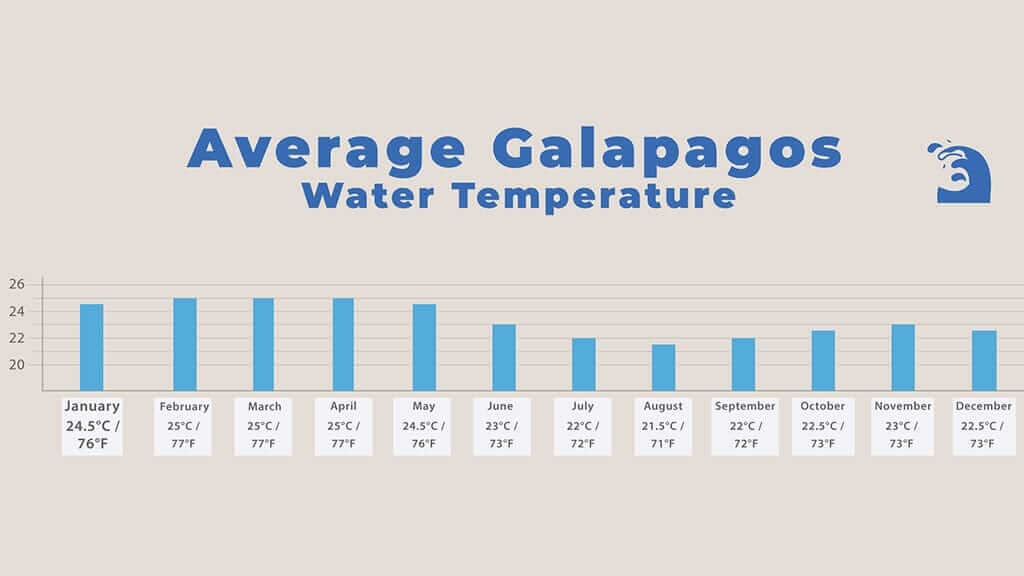 How cold is the water in Galapagos? The Galapagos water temperature varies from a low of 21.5 celcius (71 fahrenheit) in the dry season, to a high of 25 celcius (77 fahrenheit) in the wet season at the start of the year.
Do I need a wetsuit in Galapagos? It really depends on your tolerance to different water temperatures. Most Galapagos visitors do prefer to use a wetsuit when snorkeling during the wet season from June to December. The Galapagos water temperature from January to May is warmer so many tourists snorkel without wetsuits. Wetsuit rentals are available on many Galapagos yachts for those that need it.
Galapagos Islands Wildlife each month
Changes in Galapagos weather bring changes in wildlife behavior. Every month at Galapagos offers unbelievable wildlife spotting opportunites, but each different month has something special & unique going on for visitors to enjoy.
Wildlife nesting, mating, hatching or parenting behavior will often be a highlight of your trip. That's why we have written a separate detailed blog for each month at Galapagos:
January
,
February
,
March
, 
April
, 
May
, 
June
,
July
,
August
,
September
,
October
,
November
and
December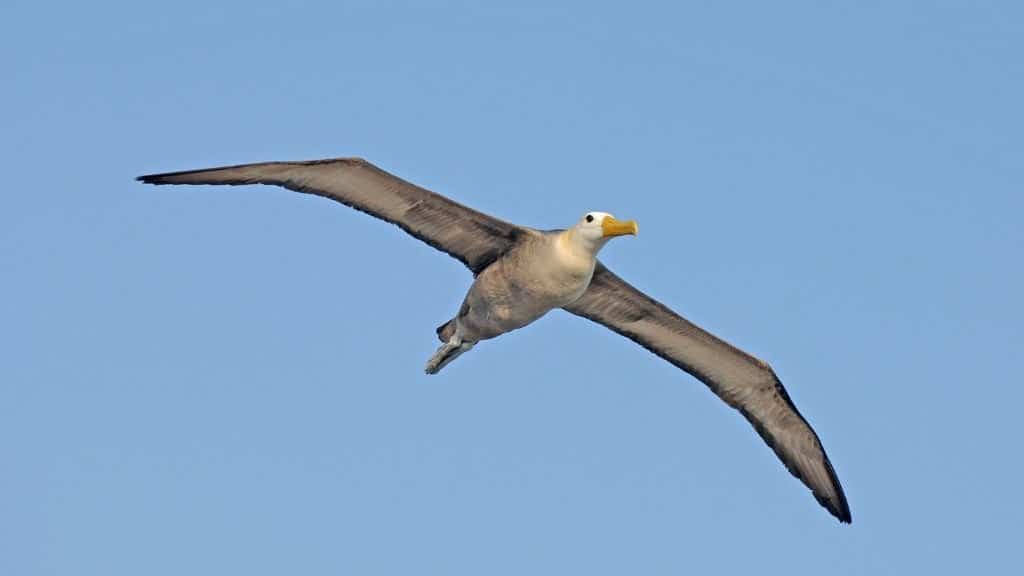 Most of the iconic Galapagos wildlife species live here year round, but there are also a few Migratory Species. The Galapagos Albatross is a great example, nesting on Espanola island only from April to December each year. Similarly Galapagos whale watching is best from May to December. There are also a number of migratory shore and wader bird species.
So do check carefully if there is a specific animal that you want to see - if in doubt then just ask us, our expert staff will be happy to help out.
When is Galapagos high season for tourists?
The final important consideration to decide 'When is the best time to go to Galapagos?' is tourist high season. During Galapagos high season you should expect larger visitor crowds, less cruise availability and higher vacation prices, so it's best to avoid high season if you can.
When is Galapagos high season? Broadly speaking it follows the school/college vacations. So July & August are busy, as are Easter week, and Christmas / New Years. During these times we strongly recommend booking in advance to avoid missing out. The earlier thar you book, the better.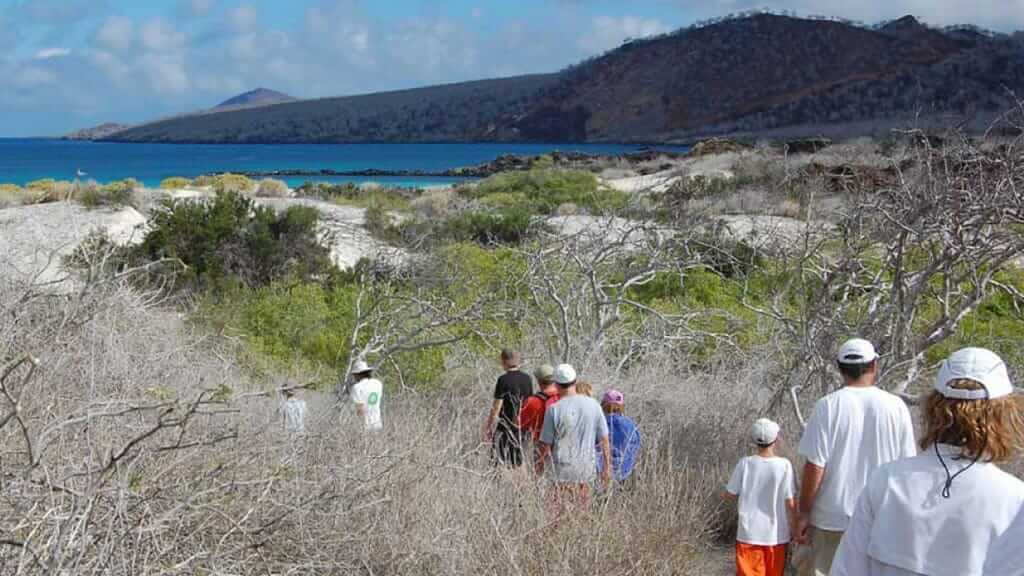 Local Ecuadorian public holidays such as Carnaval (February or March) and All Saints & Souls (November) are also popular dates when Galapagos flights often sell out.
Most other months of the year are considered to be Regular season. September and October at Galapagos often have the lowest tourist demand, so are great months to avoid the crowds. 
If you need help planning your Galapagos Vacation, then just drop us a line. We will be happy to help you choose the perfect month for your trip and send a FREE GALAPAGOS TOUR QUOTE.
Happy Gringo Travel has over 15 years of experience as the trusted choice in Galapagos travel, and has been awarded the TripAdvisor Certificate of Excellence for 6 consecutive years. We specialize in Galapagos Cruises, Scuba Diving Tours, as well as Galapagos Land Trips.
In conclusion, when is the best time to go to Galapagos? Every month is amazing at the Galapagos islands! The Galapagos weather is enjoyably pleasant throughout the year, and the wildlife action never disappoints. So what are you waiting for? Pack your bags and come on over, we guarantee the Galapagos vacation of a lifetime!