Highlights of Guango Lodge
Guango Lodge is a paradise for bird lovers and photographers alike; it is not uncommon to see up to 14 species of humming birds in one hour, including the amazing sword-billed hummingbird.
Guango is located near the paramo zone and hot springs of Papallacta, surrounded by a 300-hectare reserve & network of trails, offering the perfect opportunity for trekking, wildlife observation & relaxation.
The lodge has 8 small but charming rooms, with hot water showers, in-room tea/coffee facilities, and hot water bottles available at night. Social areas are cozy with warm fire places in the evening.
Located just 1 hour drive from Quito Airport, Guango Lodge is convenient for a day trip, or a 2-3 day city-break excursion.
Guango lodge is also a conscious initiative for nature conservation and community support, and active in employing & training local residents from the area.
The myriad of forest trails offer access to a world of hidden secrets, to be explored with a naturalist guide, or by yourself.
Guango Lodge
Itineraries and pricing per person 2023
Number of Passengers

English speaking guide

Spanish speaking guide

1

$842

$433

2

$500

$295

3-4

$446

$291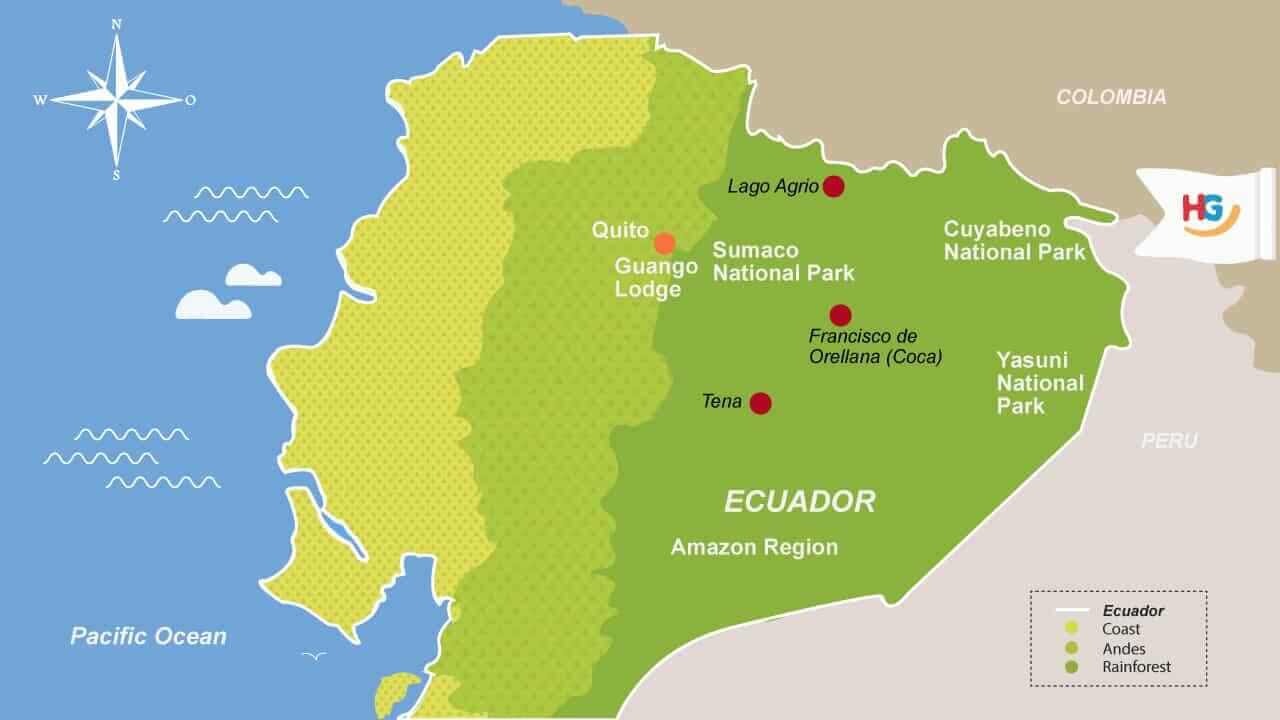 ITINERARY: GENERAL INTEREST TOUR PACKAGE
DAY 1 Journey from Quito through the scenic and biodiverse paramo cloudforest. First visit is at a rose plantation. Then onto Papallacta´s paramo to admire the amazing Antisana volcano. In the afternoon, arrival to the lodge for lunch. Early afternoon hike and return to the lodge to enjoy a delicious local drink called "canelazo".
DAY 2 After breakfast, we take you trout fishing. Next to the Hummingbird feeders to admire various species birds, and an optional walk in the orchid garden. After lunch trekking through an ancient Polylepis forest, and return to Quito in the late afternoon.
Full itinerary under construction please ask our sales team for more information
See Full Itinerary
See Full Itinerary
Contact Sales Person
Inclusions
Overnight stay
Breakfast
Entrance to reserve
Use of trails
Drinking water
Exclusions
Other meals
Guide service (additional cost $112 per day)
Transport to/from Quito
Tips
Other expenses
Tour Dates
This tour is available throughout the year. Flexible to start on any day of the week that you prefer to travel.
About itineraries & Prices
For birding tours prices please ask our sales team. Longer packages are also available.
About Bird sightings
Obviously wildlife sightings will vary, but some of the popular birds that are regularly spotted at Guango Lodge include: Andean Guan, Gray-breasted Mountain-Toucan, Turquoise Jay, Scarlet-bellied, Lacrimose, Buff-breasted and Hooded Mountain-Tanagers, Gray-hooded Bush-Tanager, Black-headed, Black-capped and Black-eared Hemispingus and Slaty Bursh-Finch, Mountain Velvetbreast, Sword-billed Hummingbird, Tourmaline Sunangel, Golden-breasted and Glowing Pufflegs, Mountain Avocetbill, and White-bellied and Gorgeted Woodstars.