Nature Photography Tour
Capture amazing images of the cloudforest!
Our specialist Ecuador nature photography tour (3 days) takes you on an unforgettable trip into Ecuador's cloudforest and eastern Andes slopes, seeking out breath-taking shots of birds, plants & flowers, frogs, lizards, insects & with luck some small mammals. This area is world famous as a biodiversity hotspot, so amazing photo opportunities are not hard to find!
Spend 3 action-packed & diverse days immersed in Ecuador's cloudforest, visiting some of the very best sites for wildlife photography opportunities.
Join a specialist photography guide who will share his expert knowledge and tips to help improve your skills, as well as offering optional photography workshops.
It does not matter if you are a beginner, intermediate or advanced photographer, the tour can be tailored to your needs, and you will be able to return home with some amazing images.
Enjoy comfortable lodging and easy organization throughout, so you can focus entirely on nature and photography.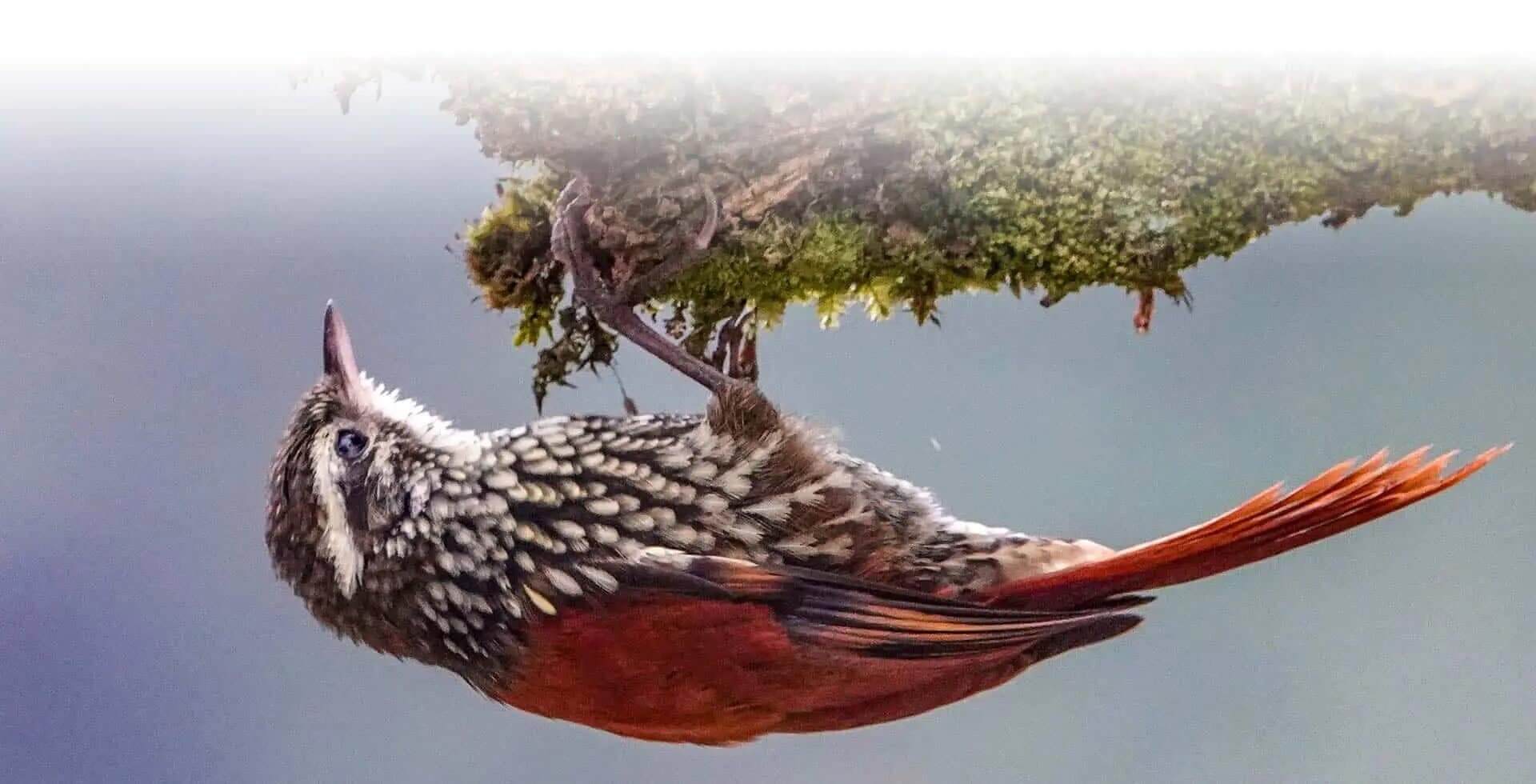 Nature Photography Tour
PRICES PER PERSON 2020
Itinerary
Day 1Pickup from airport or hotel in Quito, Papallacta Pass and Guango Lodge. We head straight to highest elevation for breathtaking views from Papallacta Pass (on a clear day), and unique vegetation suited to macro photography. We will also be looking out for the Rufous-bellied Seedsnipe, large shorebird, and with luck maybe mammals like Andean Fox, White-tailed Deer, Andean Rabbit, and maybe even Spectacled Bear! Dress warm! We continue to Guango cloud forest Lodge for amazing hummingbird photo opportunities, including the Sword-billed Hummingbird. A short trail down to the river can be really good for Torrent Duck, mixed flocks, and sometimes Mountain Tapir or brocket deer. Continuing on to our hotel, at night (weather permitting) we can search for the San Isidro Owl, and mammals such as night monkeys, Kinkajou, & frogs / insects.
Day 2Cabañas San Isidro, Narupa Yacu, & Wild Sumaco. An early start to photograph birds around the cabins in the morning, looking for trogons, flycatchers, fruiteaters, quetzals, warblers, woodpeckers, ovenbirds, wrens, and more. Mountain Tapirs can also sometimes be observed at a salt lick by the lodge, and White-bellied Antpittas being fed. After breakfast we focus on the hummingbirds, before dropping in elevation to the Amazon foothills to search out the crowd-pleasing Spangled Coquette along a short trail lined with Verbena bushes to a waterfall. Next we continue on to Sumaco-Graleras National Park, where Wild Sumaco lodge is great for hummingbirds, tanager flocks (such as paradise tanagers), guans, monkeys, macaws and more. Volcano Sumaco also makes for a nice landscape photo on a clear day. At night, we shall go for another night walk, looking for owls, insects, frogs, lizards, snakes, large spiders, etc.
Day 3Wild Sumaco. An early start searching for birds and tamarin monkeys around the lodge, and hopefully macaws flying overhead. With luck, we may see the highly-endangered Military Macaws. Down a trail into the forest we hope to photograph two different types of antpitta at feeding stations along the trail. Returning to the lodge we can focus on the hummingbirds, or relax before lunch. Returning to Quito in the afternoon we will make some interesting stops along the way, first to photograph a beautiful waterfall and hummingbirds, keeping our eyes peeled for possible spectacled bear in the paramo, and finally to check out a Polylepis forest. On arrival to Quito it will be time to end our adventure together.
Full Itinerary
Full Itinerary
Book now
Inclusions
Private transport starting and ending in Quito (hotel or airport)
Specialized expert nature photography guide with spotting scope
Breakfasts, lunches, dinners (from lunch on day1 to breakfast on final day)
Double / Twin room accommodation
Entrance fees and access permits to all scheduled visits on itinerary
Exclusions
International Airfare
Single Supplement
Camera equipment
Alcoholic beverages
Extra snacks
Tips
Personal expenses & souvenirs
Extra activities not specified in the itinerary
Tour Dates
This tour is available to start on any day throughout the year, depending on the availability of the specialist guide.
Recommended to bring
Cameras, lenses for macro, telephoto and landscape, binoculars, rain proofing (just in case), decent walking shoes, warmer clothes, water bottle, head covering (hat or buff), sunscreen, insect repellent, flashlight.
About this itinerary
From a photography perspective, this tour can be CUSTOMISED to your level of previous experience: beginner, intermediate or expert. Your guide will give you tips throughout to capture the very best images, and daily photography teaching can be included if desired. Please let us know your specific needs & goals in advance.
For more specific information about BIRD & MAMMAL SPECIES we hope to find on this tour, please read the detailed itinerary pdf.
This is a PRIVATE tour giving you maximum flexibility.
The exact Itinerary may change based on weather conditions, or unexpected events which could compromise safety.
Scott Manzer
On a recent trip to Ecuador, I was fortunate to book this tour. Our guide's birding & nature skills were unbelievable. He was meticulous and thorough in photographing sightings, and follow up discussions. I have NEVER seen higher quality close up shots. Since my return to the States, I continually remember the experience
Chris Tokarski
During my Ecuador birding trip in 2018 we visited various birding lodges, bird hides and special locations that afforded us great photographic opportunities. In particular we had many opportunities for my favourite species, hummingbirds. Looking forward to doing another trip like this in the near future.